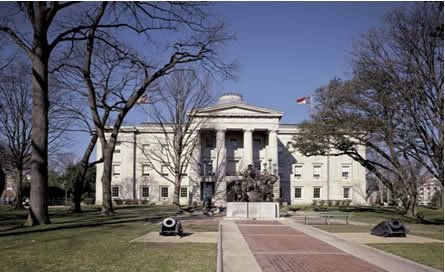 Here is my daily posting of the legislative calender for the North Carolina General Assembly, along with a rant regarding that body's efforts to honor a traitor who gave aid and comfort to our enemy in a time of war...

Our elected idiots have put forth
a resolution
to honor the recently deceased Walter Cronkite as "
one of this country's greatest and most accomplished journalists, and expresses the appreciation of this State and its citizens for the contributions he made to journalism
" when that is expressly not so.
Walter Cronkite was guilty of helping the Viet Cong conduct a massive disinformation campaign regarding the Viet Nam War to make it look like the Communists were winning, and he even stated in 2006 that it was his proudest moment, helping to turn the tide of war against America.
The blood of tens of thousands of Americans and over a million Vietnamese and others in Southeast Asia who were slaughtered is on his hands as his disingenuous reports convinced the enemy that they had allies in our media that would do their part, along with the war protesters in the streets, to help the Communists achieve victory.
It is my intent to one day visit his grave so that I might spit upon it
and pour a glass of urine on it
for many of his victims who went to their graves before their time because of him and his acts of treason.
It is a shame that the North Carolina General Assembly would honor a traitor.
Of course, our state legislature is controlled by lefties and has an inept minority that goes along to get along.
It is a shame that our state legislature will be honoring the traitor Walter Cronkite.
10:00 AM AND 1:00 PM

Work/School Zones-Speed Camera Pilot Program. (

S269

)



1425LB

8:30 AM

544LOB

9:00 AM

SELECT COMMITTEE ON ECONOMIC RECOVERY

(House)

Solar Collectors on Residential Properties (

H1387

)



1027LB

9:00 AM

APPROPRIATIONS/Transportation

(House)

DMV Handicap Placard Enforcement. (

H706

)



1228LB

9:00 AM

APPROPRIATIONS/BASE BUDGET

(Senate)

643LOB

9:30 AM

SELECT COMMITTEE ON ECONOMIC RECOVERY

(Senate)

Solar Collectors on Residential Properties (

H1387

)



1027LB

10:00 AM

Beach Plan Changes (

H1305

)



1027LB

10:00 AM

Little Tennessee River Basin Advisory Comm. (

S1083

)



1228LB

10:00 AM

EDUCATION/HIGHER EDUCATION

(Senate)

643LOB

11:00 AM

1228LB

11:00 AM

AGRICULTURE/ENVIRONMENT/NATURAL RESOURCES

(Senate)

Permitting of Wind Energy Facilities (

S1068

)



544LOB

12:00 PM

Sustainable Local Food Policy Council/Goal. (

S1067

)



1228LB

12:00 PM

WILDLIFE RESOURCES

(House)

Public Safety Registration. (

S807

)



415LOB

1:00 PM

COMMERCE, SMALL BUSINESS, AND ENTREPRENEURSHIP

(House)

Small Business Assistance Fund. (

S982

)



1228LB

1:00 PM

WAYS AND MEANS/BROADBAND CONNECTIVITY

(House)

415LOB

1:30 PM

RULES CALENDAR, AND OPERATIONS OF THE HOUSE

(House)

Honor Walter Cronkite. (

H1658

)



421LOB

2:00 PM

WATER RESOURCES AND INFRATRUCTURE

(House)

Creation of Yadkin River Trust. (

S967

)



1228LB

3:00 PM




House Chamber

3:00 PM

Session Convenes

(Senate)




Senate Chamber