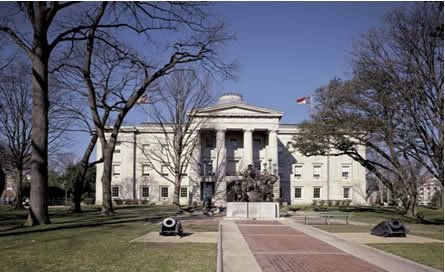 The state budget has been sent to Governor Perdue, with a 27-18 vote in the NC Senate and 65-52 in the NC House. I'll be posting the audio of the debate later.
Now that the budget has been passed, I think that the
General Assembly
will be ending it's session pretty soon. Here is what they have scehduled for today...







8:30 AM

Continuous Alcohol Monitoring Systems. (

H926

)
Regulate Public Adjusters.-AB (

H1313

)
Reform Bill of 2009. (

H1445

)
Chowan/Delinquent Tax - Deny Building Permit. (

S79

)
Handicapped Placards/Special ID Cards. (

S203

)
Expunctions/Purge Online Databases. (

S262

)
Pyrotechnics Safety Permitting Act. (

S563

)
N.C. Life Science Development Corp. Act. (

S580

)
University Nonappropriated Capital Projects. (

S786

)
Environmental Technical Corrections 2009. (

S838

)
Expand Film Credit. (

S943

)
Amend Home Inspector Licensure Laws. (

S1007

)



544LOB

9:00 AM

CONFEREE COMMITTEE MEETING ON SENATE BILL 960

(Senate)

SB 960 Ensure Accountability Re: Stimulus Funds



328LOB

10:00 AM

1124LB

10:00 AM

Creation of Yadkin River Trust. (

S967

)



1228LB

10:00 AM

Clarify MV Dealer Termination Assistance. (

S914

)



1425LB

11:00 AM

RULES CALENDAR, AND OPERATIONS OF THE HOUSE

(House)

Fair Housing Act Amendment. (

S425

)



421LOB

11:00 AM

Session Convenes

(Senate)




Senate Chamber

12:00 PM

ENVIRONMENT AND NATURAL RESOURCES

(House)

643LOB

1:00 PM




House Chamber