**8.07 AM update** Local radio station WNCC-FM (96.7) reports that about 70 acres burned in this fire. A downed power line is the suspected cause and although several sheds and outlying buildings burned, it is believed that no homes were lost to the fire.


That's good news!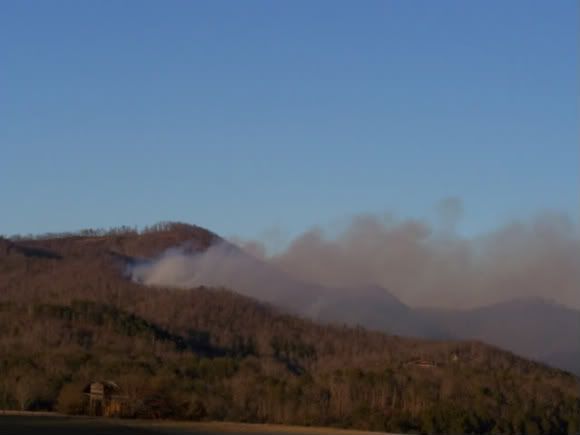 Here are some excerpts from audio recorded from public safety radio communications of units involved fighting a brush fire on Lyle Knob in Macon County that threatened several homes on Tippett Branch rd, Lyle Knob Rd, and Mason Branch Rd.
Several Volunteer Fire Depts battled the blaze alongside units from the NC Forest Sevice. I don't know yet how many homes were lost, but I heard of two being lost while listening to the firefighters being ordered to retreat from the advancing flames.
Audio recorded from a forest fire in Macon County off Tippett Branch Rd to which several volunteer fire departments were engaged in fighting. The list includes, Mountain Valley VFD, Franklin VFD, Cowee VFD, Cullsaja VFD, Savannah VFD, West Macon VFD, Clarks Chapel VFD and Otto VFD. Several fire fighting crews from the NC Forest Service were also fighting the fire, including at least one BRIDGE crew and a helicopter.
**8.21 AM**
Instead of doing another video, I've put together an audio file and have embedded it below: