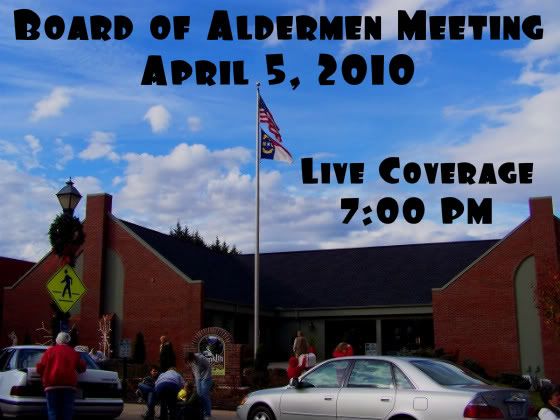 Here is the show player and social stream for the meeting tonight. I plan on beginning to stream shortly before 7PM tonight:
Streaming live video by Ustream
I missed covering the Feb 15th meeting because I didn't know about it, and missed the March meeting because the Macon County Commissioners changed their meeting time last month and that meeting conflicted with the Town meeting. I went with covering the Commissioners meeting on the theory that it affected more people than the town meeting. I missed an important Aldermen meeting. Hopefully, that won't be happening again.
The plan is to be there at 7PM tonight and webcast the meeting live and tweet the main points. Feel free to interact with me via twitter during the meeting using the hashtag #maconnc.
DATE:
Monday April 5, 2010 - 7:00PM
Call to order – Mayor Collins

Approval of the March 1, 2010 minutes

Public session





[A] Proclamation for "Paint The Town Purple Month" for Relay For Life

Briefing on changes to the Alcoholic Beverage Control (ABC) law – Franklin ABC board members and manager Todd Mason

Forward Providence Builders special use application on Carolina Mountain Drive Development to the planning board for recommendation – Michael Grubermann

Planning board recommendation regarding corridor annexation and extraterritorial jurisdiction (ETJ) expansion – Michael Grubermann

Utility projects/financing





(A) Consideration of award for Crawford Branch sewer line project

(B) Set public hearing on financing package for water/sewer improvements

Discussion regarding water/sewer rate structure

Finance





(A) Consideration of appropriation of funding from NC Rural Center grant to Angel Medical Center

(B) Appropriation of funding for the town portion of the joint economic development initiative

Town Attorney





(A) Fire protection contract

(B) Policy language regarding dual employment standards

Consideration of NCLM Municipal Environmental Assessment Coalition Project Participation Agreement

Consideration of adoption of personnel policy as amended (effective July 1, 2010)

Discussion regarding town vehicle use policy (future appendix to the personnel policy)

Closed session regarding property acquisition

Adjourn