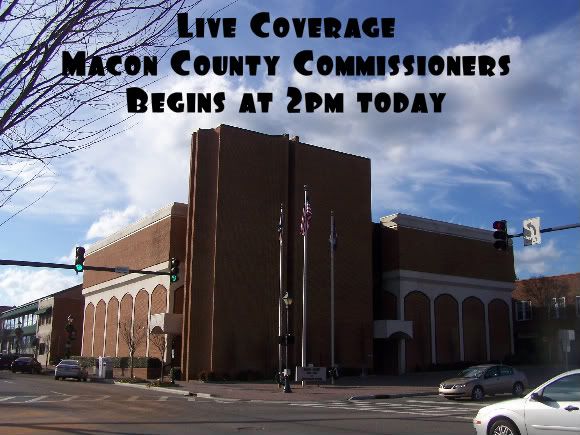 I
'll be in the Macon County Commissioners Boardroom by 2pm today, and will be tweeting and uploading photos during the meeting. You can follow the progress of the meeting on Twitter under the hashtag #macongov, or here on the embedded widget below. If you have a Twitter account, feel free to jump in and participate. The agenda for the meeting is at the bottom of this article.
**4.29pm** Here is a short clip from the meeting, a demonstration of a CPR Machine called an Auto Pulse:
I'll have more later.
MACON COUNTY BOARD OF COMMISSIONERS
APRIL 26, 2010 - 2 P.M.
AGENDA

Call to order and welcome by Chairman Beale

Announcements

Invocation

Pledge of Allegiance

Public Hearings



Community Development Block Grant (Rick Norton)
911 Road Names (Angie Kinsland)



Public Comment Period

Adjustments to and approval of the agenda

Reports/Presentations:



2010 Census update (Derek Roland & Rhonda Blanton)
SCC/CPR machine demonstration by Todd Doster,
Southwestern Community College EMS Facilitator/Coordinator



Old Business:

New Business:

Consent Agenda


All items below are considered routine and will be enacted by one motion. No separate discussion will be held except on request of a member of the Board of Commissioners.





Minutes
Finance
Tax releases
EDC Guidelines



Appointments

Closed session - Contractual & Attorney/Client Privilege

Adjournment/Recess