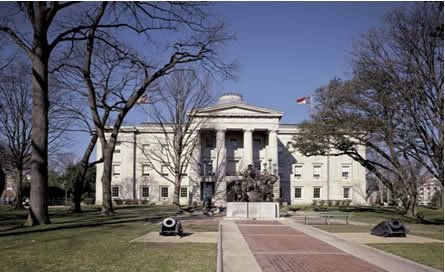 Here is the legislative calender for today in the North Carolina General Assembly...things are getting kind of crazy as they work to close the session out this week.
Also, here is something that I've forgotten to do during this session, post links to the NC House and NC Senate calenders so you can follow along to them as you listen online. I apologize for that oversight.
NC House Calender [web location]
NC Senate Calender [web location]
The calenders are in PDF format.
I've been testing some improvements to my coverage of the General Assembly with members of the Counter Progressive Unit as my Beta Testers during this session, so I've been a little less observant on the posting of info for this one, and I apologize for that. I'm hoping that the improvements will more than make up for it.
9:00 AM

UNC Performance & Payment Bond Modification. (

H1035

)

1027 LB

9:00 AM

544 LOB

9:00 AM

Rep. Stam/ Press Conference

Ref: Republican Press Conference

Press Room LB

9:30 AM

Press Room LB

10:00 AM




1228 LB

10:00 AM

Pensions and Retirement

(House)

State Health Plan/Court-Ordered Guardianships. (

S1392

)

415 LOB

10:00 AM

Education/Higher Education

(Senate)

643 LOB

11:00 AM

1027 LB

11:00 AM

Local Government II

(House)

1425 LB

11:00 AM

Energy and Energy Efficiency

(House)

Univ. Energy Savings/LEA Operational Leases (

H1292

)

421 LOB

12:00 NOON

Wildlife Resources

(House)

Disabled Sportsmen/Atv Exception. (

H617

)

415 LOB

DURING 1ST SENATE RECESS

State and Local Government

(Senate)

Senator Jones' Chamber Desk

1:00 PM

1425 LB

1:00 PM

Ways and Means/Broadband Connectivity

(House)

Zoning/Durham County Protest Petitions. (

S1399

)

415 LOB

1:00 PM

Modernization of the State ABC System. (

H1717

)

544 LOB

1:00 PM

Environment and Natural Resources

(House)

Improve River Basin Modeling. (

H1743

)

643 LOB

1:30 PM

Special Care Dentistry Collaboration. (

H144

)

1228 LB

2:00 PM




House Chamber

2:00 PM

Session Convenes

(Senate)




Senate Chamber