**7.39am** I have found a disturbing echo in the audio of the video and will have to remove one of the audio tracks and reprocess the video. That will take until sometime early this afternoon for that to be completed. I will re-post the video here. I apologize for the delay and inconvenience this may have caused.


**12.54pm** I have corrected the bad audio track and replaced the embedded video. You can now watch the video all the way through without the echo chamber effect. LOL. It will be ready for viewing by around 1.20pm.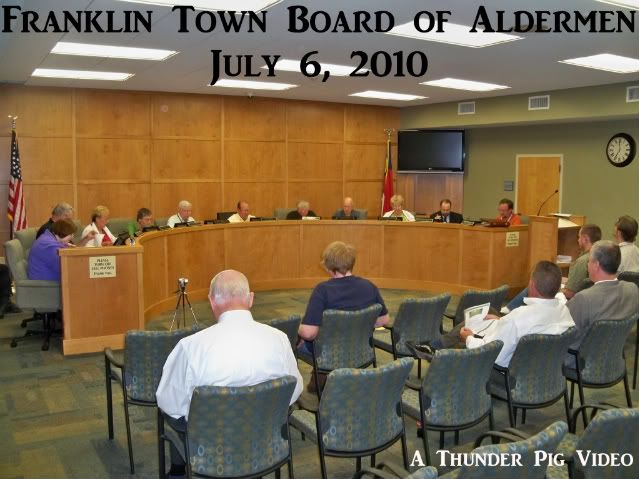 The Franklin Town Board of Aldermen met last night in the Town Hall. Click here to see the agenda of that meeting.
Here is the video of last night's Aldermen meeting:
There were four public hearings on petitions for voluntary annexation, and all were approved.
Reports for June from the Franklin Police Dept and the Franklin Fire Dept were received and entered in to the record. They reported as follows:
Police Report June 2010
633 Calls Responded
Reports Filed
33 Accidents
18 Arrests
36 Incident/Investigations
Enforcement Actions
18 Arrests
72 Citations
23 Criminal Papers Obtained
25 Warning Citations
Franklin Fire and Rescue Report June 2010
Fire Calls
0 Structure Fires
15 Vehicle Accidents
5 False Unintentional
3 False Malfunction
1 False Malicious
1 Vehicle Fire
1 Good Intent
1 Hazardous Condition
1 Search
1 Refuse Fire
Medical Calls
70 First Responder Calls
99 Total Calls
A public hearing on the special use application by Bright-Meyers 2001 LLC (Walmart) was scheduled for the August 2, 2010 meeting.
The Aldermen recessed the meeting until 5.30pm on July 19, 2010, during which there will be presentations on on development proposals for town property and for information to be collected from Duke Energy about the condition of the Porter's Bend Dam on Lake Emory and why it isn't being used to generate electricity.