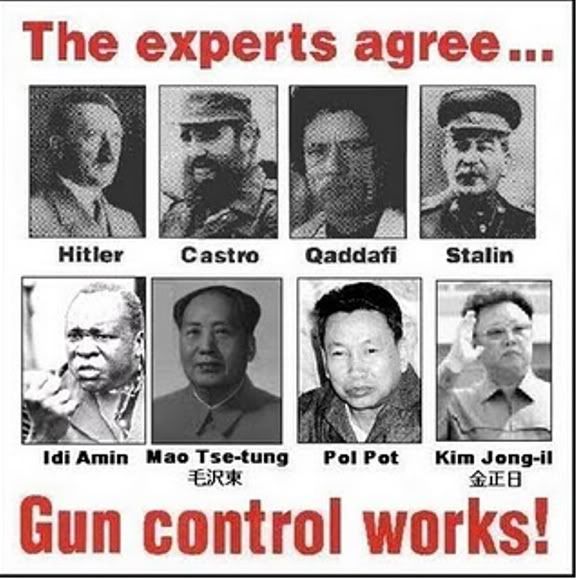 Barely four days after the Supreme Court affirmed the right of Chicagoans to keep and bear arms in defense of their families and property, the city council of Chicago has passed a new draconian set of Daley handgun restrictions. Perhaps I should add Mayor Daley and the 45 members of the Chicago City Council to the Gun Control Advocates Hall of Fame pictured above.
Mayor Daley had been prepared to have his unconstitutional restrictions overturned, according to this article in the Chicago Tribune.
Read more about it...
Four days after the U.S. Supreme Court gutted Chicago's longtime handgun ban, the City Council on Friday enacted a whole new set of gun-control measures.






Alderman voted 45-0 in favor even as some of them acknowledged how little the restrictions would do to quell violent crime.






The rush job is aimed at having a new set of established handgun restrictions in place before a lower court enters a final order to formally strike down the city's gun ban.






The ordinance "places reasonable regulations regarding who should and should not be able to possess a handgun in their home for self-defense," Mayor Richard Daley said after the special council meeting. "With this law, we're supporting adults who legitimately want a gun in their home for self-defense. But at the same time, we're trying to keep guns out of the hands of gang bangers and drug dealers who only want to terrorize our communities."






Several aldermen, however, said the ordinance is more likely to affect responsible, law-abiding gun owners than the thugs causing mayhem on hot weekend nights.






"You cannot legislate criminals, they are going to be criminals no matter what," said Ald. Ed Smith, 28th. "And the people who intend to do crime, they are going to do it in whatever manner they can. They are going to get a gun wherever they can. And they are going to use it. And they are not going to register their gun."






After making a similar acknowledgement, Ald. Deborah Graham, 29th, issued a plea. "I also would encourage gang bangers who get those guns unlawfully to stop getting them unlawfully," she said. "We're going to increase the penalties to make sure our communities are safe."






When the new law takes effect in 10 days, people who want to keep a handgun in their homes and be on the right side of the law will have to obtain Chicago firearm permits. To get one, they must take firearms training and not have convictions for a violent crime, unlawful use of a firearm or two or more charges of driving under the influence of drugs or alcohol.






Each weapon would have to be registered, and those with permits will only be able to register one weapon each month.




Guns could only be kept in the home, and each per permit holder in the home could only have one handgun in readily operable condition at a time.
Source:
Chicago Tribune
Will the last American who believes in the Second Amendment turn the lights out in Chicago when they leave?
Previously: