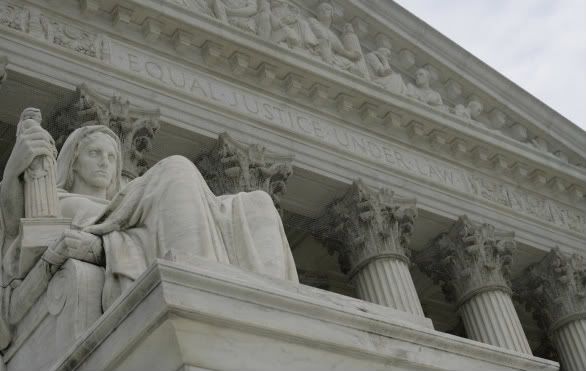 The scary part is that it was a 5-4 decision. Our Republic, and Constitution, hang by a thread.
Here is an excerpt:
SUPREME COURT OF THE UNITED STATES
MCDONALD ET AL. v. CITY OF CHICAGO, ILLINOIS,
CERTIORARI TO THE UNITED STATES COURT OF APPEALS FOR THE SEVENTH CIRCUIT
No. 08–1521. Argued March 2, 2010—Decided June 28, 2010
Two years ago, in District of Columbia v. Heller, this Court held that the Second Amendment protects the right to keep and bear arms for the purpose of self-defense and struck down a Dis-trict of Columbia law that banned the possession of handguns in thehome. Chicago (hereinafter City) and the village of Oak Park, a Chi-cago suburb, have laws effectively banning handgun possession byalmost all private citizens. After Heller, petitioners filed this federalsuit against the City, which was consolidated with two related ac-tions, alleging that the City's handgun ban has left them vulnerable to criminals. They sought a declaration that the ban and several re-lated City ordinances violate the Second and Fourteenth Amend-ments. Rejecting petitioners' argument that the ordinances are un-constitutional, the court noted that the Seventh Circuit previouslyhad upheld the constitutionality of a handgun ban, that Heller had explicitly refrained from opining on whether the Second Amendment applied to the States, and that the court had a duty to follow estab-lished Circuit precedent. The Seventh Circuit affirmed, relying on three 19th-century cases—United States v. Cruikshank, 92 U. S. 542, Presser v. Illinois, 116 U. S. 252, and Miller v. Texas, 153 U. S. 535— which were decided in the wake of this Court's interpretation of theFourteenth Amendment's Privileges or Immunities Clause in the Slaughter-House Cases, 16 Wall. 36.
Held: The judgment is reversed, and the case is remanded.
Source: SCOTUS Wiki,
McDonald v. City of Chicago
Here is the full decision:
McDonald v. City Of Chicago