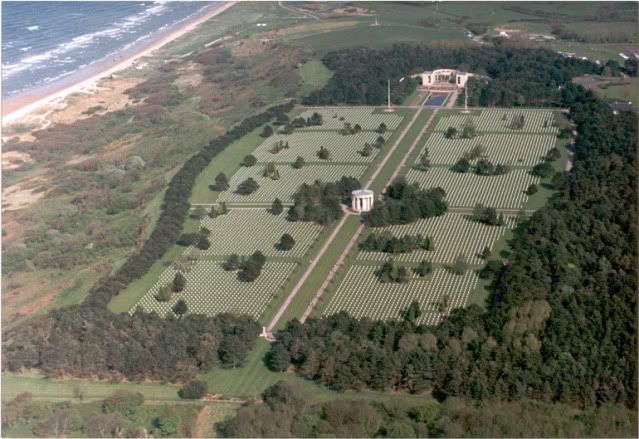 The above photo is an aerial view of the Normandy American Cemetery maintained by the
American Battle Monuments Commission
. More than 9,000 Americans are buried here.
I normally embed bits and pieces during the day on the anniversary of this day in history. This year, I will just embed the whole thing at once.
Here is a little background on the Normanday Landings via
Wikipedia
:



The operation was the largest amphibious invasion of all time, with over 160,000

[5]

troops landing on 6 June 1944. 195,700

[6]

Allied naval and

merchant navy

personnel in over 5,000

[5]

ships were involved. The invasion required the transport of soldiers and materiel from the United Kingdom by troop-laden aircraft and ships, the assault landings,

air support

, naval interdiction of the

English Channel

and naval

fire-support

. The landings took place along a 50-mile (80 km) stretch of the

Normandy

coast divided into five sectors:

Utah

,

Omaha

,

Gold

,

Juno

and

Sword

.