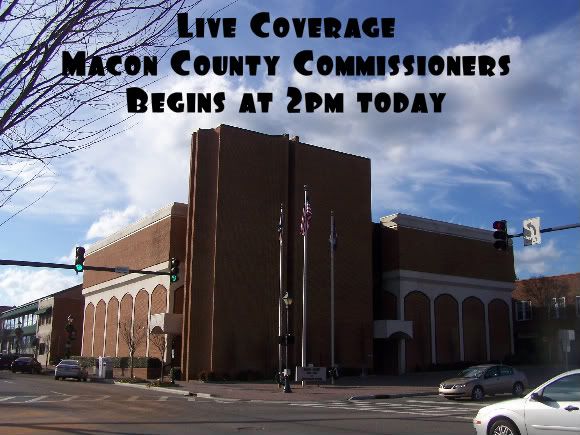 The Macon County Commissioners will be meeting today at 2pm. I plan on being there to cover it.

Here is the Twitter Widget to follow the meeting. I will be using the hashtag #MaconGov.




Here is the agenda for that meeting...
MACON COUNTY BOARD OF COMMISSIONERS
JUNE 28, 2010 – 2 P.M.
AGENDA
1. Call to order and welcome by Chairman Beale
2. Announcements
A. Recognize Alan Durden, new Cooperative Extension Director
3. Invocation
4. Pledge of Allegiance
5. Public Comment Period
6. Adjustments to and approval of the agenda
7. Public Hearing – (Transit)
A. Federal Transportation Administration Grant……...…Attachment #7
1. Public Hearing
2. Adoption of Resolution
8. Reports/Presentations:
A. Report on bid opening for K-4 School (County Manager)
9. Old Business:
10. New Business:
A. Easements………………………………….…………..Attachment #10A
1. Town of Franklin
2. Duke Energy
11. Consent Agenda…………………………………………………Attachment #11
All items below are considered routine and will be enacted by one motion. No separate discussion will be held except on request of a member of the Board of Commissioners.




Minutes…………………………………………………Attachment #11A





Finance ………………………………………………....Attachment #11B
(1) Budget revisions (2) K-4 School Resolution.




Tax Department (1) Refund (2) Releases……………..Attachment #11C





Resolution – Rural Center Grant……………………….Attachment #11D





Animal Control Enforcement for Towns……………….Attachment #11E
12. Appointments……………………………………………………Attachment #12
13. Closed session (If necessary)
14. Adjournment/Recess