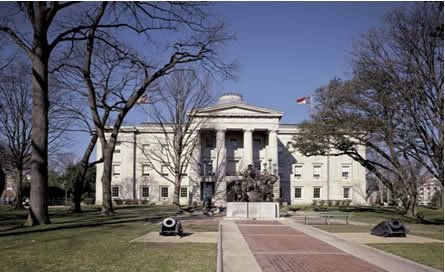 Today is anticipated to be the last day of the 2010 short session of the North Carolina General Assembly. Here is the legislative calender.
| | | |
| --- | --- | --- |
| 10:00 AM | | House Chamber |
| 10:00 AM | | Senate Chamber |
Other Sources of Audio and a Short Rant
If you miss the sessions today, you can hear them from Voter Radio by subscribing to the RSS Feed or on iTunes. Voter Radio is a service of the N.C. Center for Voter Education. Also, the NC House does archive their audio. I have no idea why the NC Senate does not do this as well. I wish that the General Assembly would webcast and/or record the audio from all official committee meetings and archive that on their website as well. I am so tired of having news of legislation filtered through the media or bloggers, who pick and choose what they will report on, as well as adding their spin on news that they choose to report. As part of my NCGA Project [alt], I have endeavored to present you with as many options of getting the info first hand as I can, and letting you decide what you want to pay attention to on the theory that you are adults and don't have to be spoon fed information in neat packages to fuel your outrage about certain pieces of legislation. I do, however, express my opinion about certain things, but leave it to you to judge for yourself whether or not you agree with me.
Upcoming Improvements
I have been working toward bettering my coverage of the North Carolina General Assembly by trying a few things by using members of the Counter Progressive Unit as beta test subjects. I'll be implementing some improvements when the next session of the General Assembly convenes after the November elections.
NC House and NC Senate Calenders
I have embedded copies of the calenders from both houses since there are apparently no committee meetings scheduled...(
I'm keeping my fingers crossed that a lot of bills will die today on the general theory that less government legislation is better than more
).
07-09-2010 NC Senate cal
Current NC House Calendar 2010 0709