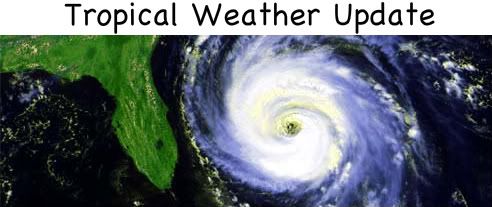 So far, things look pretty calm in the
Atlantic Basin
and people are still making noise about the higher than normal temperatures in this area since earlier this spring. We'll see if things get as bad as has been forecast. Most people say it will rival 2005.
Here is the most recent Graphical Outlook for the Atlantic basin from the National Hurricane Center...
There are two areas of concern, and neither look like they will develop into anything approaching tropical storm strength. The tropical weather outlook follows:
ZCZC MIATWOAT ALL




TTAA00 KNHC DDHHMM




TROPICAL WEATHER OUTLOOK




NWS TPC/NATIONAL HURRICANE CENTER MIAMI FL




200 AM EDT TUE JUL 6 2010






FOR THE NORTH ATLANTIC...CARIBBEAN SEA AND THE GULF OF MEXICO...






1. A SMALL LOW PRESSURE AREA LOCATED NEAR THE SOUTH-CENTRAL LOUISIANA




COAST IS PRODUCING A FEW SHOWERS AND THUNDERSTORMS AS IT MOVES




WEST-NORTHWESTWARD AT 10 TO 15 MPH. DEVELOPMENT OF THIS LOW IS NOT




EXPECTED DUE TO THE INTERACTION WITH LAND AND THERE IS A LOW




CHANCE...NEAR 0 PERCENT...OF THIS SYSTEM BECOMING A TROPICAL




CYCLONE DURING THE NEXT 48 HOURS. LOCALLY HEAVY RAINFALL IS




POSSIBLE OVER PORTIONS OF SOUTHERN LOUISIANA TODAY.






2. A BROAD AREA OF LOW PRESSURE NEAR THE EAST COAST OF THE YUCATAN




PENINSULA CONTINUES TO PRODUCE WIDESPREAD BUT DISORGANIZED




CLOUDINESS...SHOWERS...AND THUNDERSTORMS. A TROPICAL DEPRESSION




COULD STILL FORM OVER THE NEXT COUPLE OF DAYS AS THIS SYSTEM MOVES




NORTHWESTWARD AT 10 TO 15 MPH. THERE IS A MEDIUM CHANCE...30




PERCENT...OF THIS SYSTEM BECOMING A TROPICAL CYCLONE DURING THE




NEXT 48 HOURS. REGARDLESS OF DEVELOPMENT...LOCALLY HEAVY RAINFALL




AND GUSTY WINDS ARE POSSIBLE OVER PORTIONS OF THE YUCATAN PENINSULA




DURING THE NEXT DAY OR SO.






ELSEWHERE...TROPICAL CYCLONE FORMATION IS NOT EXPECTED DURING THE




NEXT 48 HOURS.






$$




FORECASTER PASCH
Weekly Hurricane Outlook with Mark Suddoth [July 6th Edition]
Now we turn to Mark Suddoth for his take on the data...
For more information on Mark's activites, check out the following links:
Hurricane Track
Ustream Feed
Twitter
Premium Services
That's all I have for today. It looks like the next couple of weeks should be okay...but don't take that for granted. Make it a habit to at least daily check out the tropical weather conditions. Sometimes, things change quicker than expected.
The time to prepare for Tropical Storms is before they hit. Well before they hit, not just in the week before one comes ashore. A good place to get started on preparing for a storm is the
National Hurricane Center's Preparedness Page
.
Even people in
my area of the Appalachian Mountains
should make preparations for disaster, most specifically for flooding or landslides.