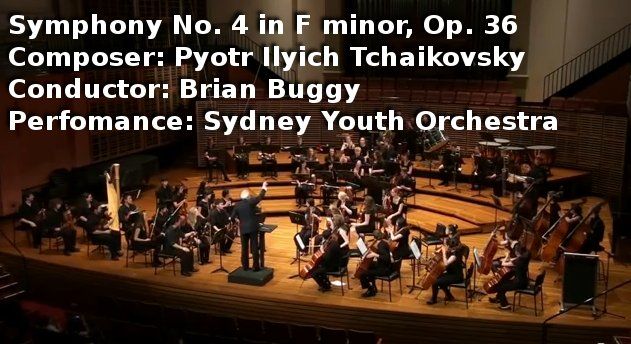 In this installment of Music Monday, we turn to Tchaikovsky's Symphony No 4. The performance embedded here is by the Sydney Youth Orchestra Family Concert, which is composed mostly of high school students.
Tchaikovsky Symphony 4, Full Length, Op. 36. Complete 4th Symphony in HD. Brian Buggy conducting SYO Philharmonic.
Starting times of movements are:

1. Starts at 00:02 - Andante sostenuto - Moderato con anima (F minor, 424 bars)
2. Starts at 10:05 - Andantino in modo di canzona (B♭ minor, 304 bars)
3. Starts at 28:00 - Scherzo. Pizzicato ostinato. Allegro (F major, 414 bars)
4. Starts at 34:05 - Finale. Allegro con fuoco (F major, 293 bars)

More information about this work can be seen at Wikipedia.

All his life, Tchaikovsky retained a love for this symphony. At the end of 1878 he wrote: "I adore terribly this child of mine; it is one of only a few works with which I have not experienced disappointment". Ten years later, when referring to the symphony, he wrote "it turns out that not only have I not cooled towards it, as I have cooled towards the greater part of my compositions, but on the contrary, I am filled with warm and sympathetic feelings towards it. I don't know what the future may bring, but presently it seems to me that this is my best symphonic work"
Source: Tchaikovsky Research

Tchaikovsky's 4th Symphony was a great success when it premièred in February 1878.

Pyotr Ilyich Tchaikovsky (Russian: Пётръ Ильичъ Чайковскій) May 7, 1840 -- November 6, 1893 was a Russian composer of the Romantic era. His wide-ranging output includes symphonies, operas, ballets, instrumental, chamber music and songs. He wrote some of the most popular concert and theatrical music in the classical repertoire, including the ballets Swan Lake, The Sleeping Beauty and The Nutcracker, the 1812 Overture, his First Piano Concerto, his last three numbered symphonies, and the opera Eugene Onegin.

Famous recordings of Tchaikovsky Symphony 4 include: Herbert von Karajan - Berlin Philharmonic Orchestra, Leonard Bernstein - New York Philharmonic Orchestra, Michael Tilson Thomas (MTT) - San Francisco Symphony, Evgeny Svetlanov - USSR Symphony and Valery Gergiev, Vienna Philharmonic Orchestra.

Pink Floyd's hit song "Wish You Were Here" opens with the finale of Tchaikovsky's Fourth Symphony being tuned on David Gilmour's car radio. "Wish You Were Here", Pink Floyd's album with the same title, sold an estimated 13 million copies worldwide.

The symphony is scored for piccolo, flutes, oboes, clarinets, bassoons, horns, trumpets, trombones, tuba, timpani, bass drum, cymbals, triangle, violins, violas, cellos and double bases.


Most of the performers here are High School students.

Recorded live at the Sydney Youth Orchestra Family Concert, December 3, 2011 at the Sydney Conservatorium of Music.

The orchestra's website is http://syo.com.au