Via an exchange on one of my Facebook Pages (read the comments), I've discovered that Memorial Mission has changed helicopter providers. If I remember correctly, the old provider was Rocky Mountain Helicopters. The new provider is Era Helicopters.
CORRECTION

: The most immediate past provider of aviation services was Air Methods Corporation. I apologize for that error.

I was on the way to the Aldermen meeting on Monday night when I noticed that the helicopter sitting on the helipad at Angel Medical Center was not the usual Green and White colors that the helicopters of the Mountain Area Medical Airlift had operated for a number of years. The previous color was maroon. So, I pulled into the parking lot to take a closer look and shot the photos that accompany this article.
Here is the press release from Mission Health regarding the change:
Mission Health Hires New Air Ambulance Provider
Posted on Feb 7, 2013
ASHEVILLE, N.C. (Feb. 7, 2013) – Mission Health has hired Era Helicopters LLC (Era), a subsidiary of Era Group Inc., to provide aviation services for MAMA (Mountain Area Medical Airlift), the health system's air ambulance program. Mission Health signed a four-year contract with the aviation provider for service beginning Feb. 1.
"We selected Era to service our MAMA helicopters because safety is their top priority and they have a proven track record for quality," said Jill Hoggard Green, PhD, RN, President of Mission Hospital and Mission Medical Associates. "As always, our primary concern is for the health and safety of our patients and the people we serve throughout western North Carolina. We are confident in putting Era on the frontline and entrusting them with the task of keeping our patients' well-being in mind – from the ground to the air – to ensure they arrive securely at our hospitals."
The Mission Health Board of Directors approved the contract with Era upon a recommendation from its Finance, Investment and Property Committee. Era was one of three companies that submitted bids after the health system's prior contract with Air Methods Corporation expired in March 2011. Air Methods Corporation has continued to service MAMA on a month-to-month basis in the interim.
"We are delighted that Mission Health has selected Era to provide safe and immediate air medical transport to the people of western North Carolina," said Paul White, Senior Vice President – Domestic for Era Group Inc. "Era is dedicated to being the best in the business. Our pilots, maintenance technicians and support personnel are all committed to safety and service excellence. "
Aircraft pilots and mechanics are employed by Era. A nurse and paramedic from Mission Health provide on-board medical care during emergency flights. MAMA operates two helicopters, one based in Asheville and a second at Angel Medical Center in Franklin. The helicopters service Mission Hospital, including Mission Health's five member hospitals and the 18 westernmost counties of North Carolina. MAMA helicopters also service parts of northeast Georgia and the Upstate of South Carolina as needed.
About Era Group
Era Group is one of the largest helicopter operators in the world and the longest serving helicopter transport operator in the U.S. In addition to servicing its U.S. customers, Era Group also provides helicopters and related services to third-party helicopter operators in other countries, including Brazil, Canada, Denmark, India, Indonesia, Mexico, Norway, Spain, Sweden and the United Kingdom. Era Group's helicopters are primarily used to transport personnel to, from and between offshore installations, drilling rigs and platforms.
---
And here are the photos I took Monday night and a couple of the videos I've taken over the years of various MAMA Helicopters: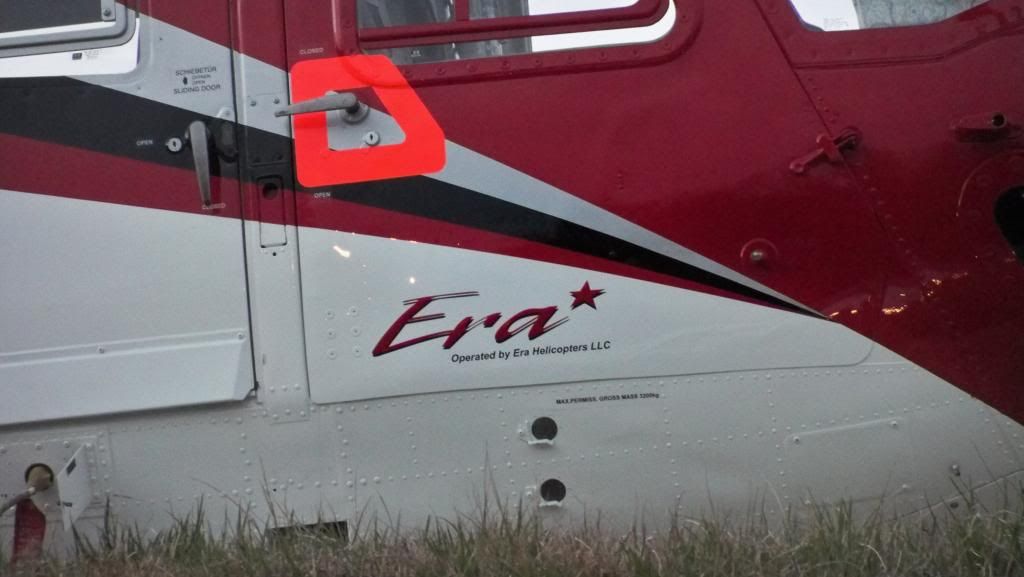 I should probably camp out in the Angel Medical center parking lot in order to get an updated video while this particular helicopter is on town...