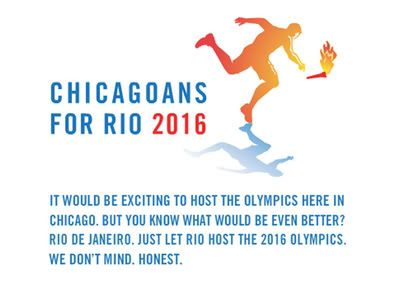 Graphic Courtesy
Chicagoans for Rio 2016
In response to the
heavy-handed and thuggish tactics
of the Chicago Olympic Committee, I am throwing my support behind Chigagoans who support Rio as the site of the 2016 Olympics.
According to The Drudge Report, the Chicago Olympic Committee succeeded in getting the following report pulled from FOX TV in Chicago after airing only once...and ironically guaranteeing that even more people would see the video report...
Visit the
Chicagoans for Rio website
to find out more of the dark side of hosting an Olympic Games.
Shame on the thugs at the
Chicago Olympic Committee
for their criminal attempt to control what news is reported.