**Note** I apologize for not being able to cover this meeting of the Franklin Town Board of Aldermen. A situation developed at the Macon County Commissioners meeting and I stayed to cover it.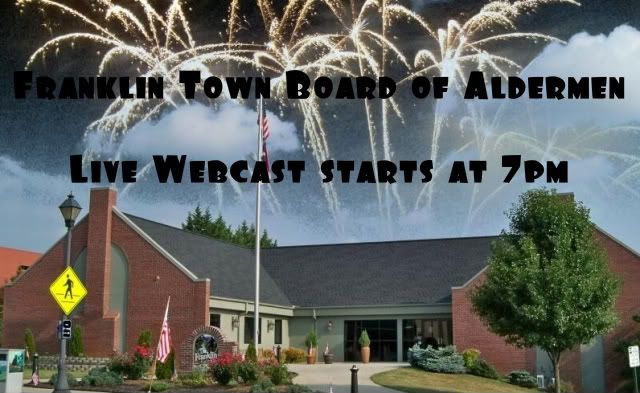 Well, it's the first Monday of the month, and that means it is time once again for me to bring you live coverage of the Franklin Town Board of Aldermen vis the Internet. The meeting is scheduled to start at 7pm, and I will try my best to leave the meeting of the Macon County Commissioners that is scheduled to start at 6pm to select a chairman and vice chairman.
Here is the meeting agenda for the Aldermen:
Town of Franklin Board of Aldermen
Agenda
Monday December 6, 2010 - 7:00 p.m.
Call to order – Mayor Collins

Approval of the October 28 and November 1, 2010 minutes

7:05 p.m. – Public hearing on involuntary annexation

Public session

Presentation of flag by John Vanhook

Discussion regarding minimum housing code – Town Attorney

Discussion regarding comprehensive billing and collection system – Town Attorney

Forward special use application for Fitch Development Apartment Complex to the planning board

2011 Town Board Regular Meeting Schedule

Consideration of the 2011 Holiday Schedule

Continue meeting until Monday, December 20 at 5:30 p.m.
Below is a widget that will allow you to see tweets and photos by me that I will be uploading during the meeting. If you prefer, you can use the hashtag #MaconGov and follow along in your favorite twitter client.