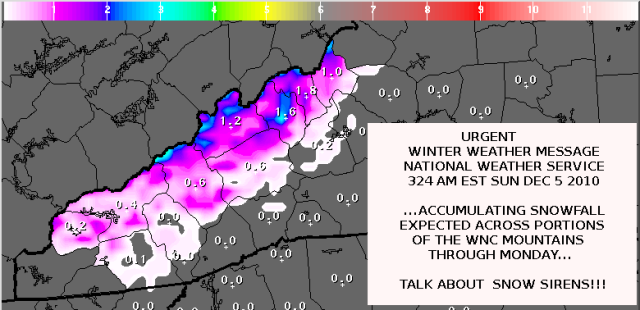 snOMG!!!
The snow sirens have been cranked for a storm that may top 6 inches before it is over.
Looks like the people living in the northern mountains of western North Carolina are gonna get a taste of winter. The rest of us will likely get a pretty view of snow falling. Keep an eye on the forecast via your favorite local radio or television station, or via the Internet at the GSP Office of the National Weather Service. The forecast changed on me while I was writing this piece. It began as a minor 1 to 3 inch forecast and changed to 3 to 6 inches before I could complete it. Snow forecasts are notoriously difficult for our area, so be sure you double check the forecast before you hit the road. [

**6.37am**

The Storm Total Map has not yet been updated with the new forecast...and I'll the new map here when it becomes available. --TP
Another resource you can use is the NC DOT's Traveler Information System. Be aware that during a quickly evolving winter weather event, it may not be up to date with the latest information available. The NCDOT is also on twitter. A webpage with all the twitter accounts is available.
You can also crowd-source your weather reports, perhaps even getting information on road conditions from people who have first hand knowledge of them, or from tweeters who are listening to scanners. Helpful hashtags are #WNCwx, #AVLwx, or you can use twitter search to data-mine for more specific info. Here is an example using the keywords snow and Asheville. Use the word AND (must be capitalized) to find tweets that use both words from people who don't use hashtags. An appalling number of people don't use hahtags at all...making their info harder to find for people who don't follow them. If all elese fails, just ask a question about road conditions where you are planning to travel and perhaps someone helpful will answer.
This snow will be accompanied by extreme cold. Cold weather kills. Check out this page at the the CDC for tips on how to prepare for extreme cold weather conditions.
Here is the Urgent Message from the National Weather Service for the northern counties of western North Carolina:
Winter Weather Advisory
URGENT - WINTER WEATHER MESSAGE
NATIONAL WEATHER SERVICE BLACKSBURG VA
453 AM EST SUN DEC 5 2010
...BLUSTERY AND COLD THROUGH MID WEEK...
.VERY COLD AIR WILL POUR INTO THE CENTRAL APPALACHIANS THE NEXT
SEVERAL DAYS FROM CANADA. THIS WILL RESULT IN A PROLONGED PERIOD
OF MOUNTAIN SNOW SNOW SHOWERS...STRONG WINDS...AND LOW WIND CHILLS.
NCZ001-002-018-VAZ007-009>011-015-019-020-WVZ042>044-051800-
/O.NEW.KRNK.WW.Y.0021.101205T1700Z-101208T0000Z/
ASHE-ALLEGHANY NC-WATAUGA-TAZEWELL-SMYTH-BLAND-GILES-GRAYSON-
ALLEGHANY VA-BATH-MERCER-SUMMERS-MONROE-
INCLUDING THE CITIES OF...WEST JEFFERSON...SPARTA...BOONE...
TAZEWELL...MARION...BLAND...INDEPENDENCE...WHITETOP...TROUTDALE...
VOLNEY...HOT SPRINGS...BLUEFIELD...HINTON...HIX...UNION
453 AM EST SUN DEC 5 2010
...WINTER WEATHER ADVISORY IN EFFECT FROM NOON TODAY TO 7 PM EST
TUESDAY...
THE NATIONAL WEATHER SERVICE IN BLACKSBURG HAS ISSUED A
WINTER WEATHER ADVISORY FOR A COMBINATION OF WINTER WEATHER
CONDITIONS...INCLUDING ACCUMULATING MOUNTAIN SNOW
SHOWERS...BLOWING AND DRIFTING SNOW...AND LOW WIND CHILL VALUES
WHICH IS IN EFFECT FROM NOON TODAY TO 7 PM EST TUESDAY.
* ACCUMULATION...OF 2 TO 6 INCHES OF SNOW.
* TIMING...SNOW SHOWERS WILL BECOME NUMEROUS THIS AFTERNOON AND
CONTINUE THROUGH TUESDAY.
* IMPACTS...BLOWING SNOW LIKELY TO DRIFT ACROSS ROADS...ESPECIALLY
IN THE HIGHER ELEVATIONS.
* WINDS...GUSTING TO BETWEEN 30 AND 40 MPH WILL BE COMMON. THE
HIGHEST ELEVATIONS MAY EXPERIENCE GUSTS TO NEAR 50 MPH.
* VISIBILITIES...BLOWING SNOW MAY REDUCE VISIBILITIES TO LESS THAN
A MILE IN THE MOUNTAINS.
* TEMPERATURES...ARE EXPECTED TO REMAIN BELOW FREEZING.
* WIND CHILL...VALUES NEAR ZERO TONIGHT AND ZERO TO 10 BELOW ZERO
MONDAY NIGHT.
PRECAUTIONARY/PREPAREDNESS ACTIONS...
THIS WINTER WEATHER ADVISORY MEANS THAT PERIODS OF
SNOW...COLD WIND CHILLS...BLOWING AND DRIFTING SNOW WILL CAUSE
TRAVEL DIFFICULTIES. BE PREPARED FOR SLIPPERY ROADS AND LIMITED
VISIBILITIES...AND USE CAUTION WHILE DRIVING.
&&
$$
11