Live coverage via Justin TV. Changed to NHK English. 3-14-2011
Scroll down to see updates in reverse chronological order.
**7.26am**

Two first person videos shot during the earthquake and a Chinese News Station coverage:
**6.51**

Vloggers in Japan report in:
The earthquake hit in Miyagi which is about 520 kilometers from me (323 miles).
I'm OK. So far everyone I know is OK. Links to the CNN and other vloggers vids here:
http://tinyurl.com/4d5dj8e

AtomicBoyX
http://www.youtube.com/watch?v=q1pV05XbR6Q
and
http://www.youtube.com/watch?v=uq28Jrw7q84

YoshiEatsWasabi
http://www.youtube.com/watch?v=S9UQXw3nPUQ

ThatJapaneseGirl
http://www.youtube.com/watch?v=ONefQ8L-N-M

HippyKiller1
http://www.youtube.com/watch?v=NvdiXY3B0eI

Hikosaemon
http://www.youtube.com/watch?v=Tkym-LlpWjo
**4.56am**

Oil refinery ablaze after devastating Japan earthquake, video from Russia Today: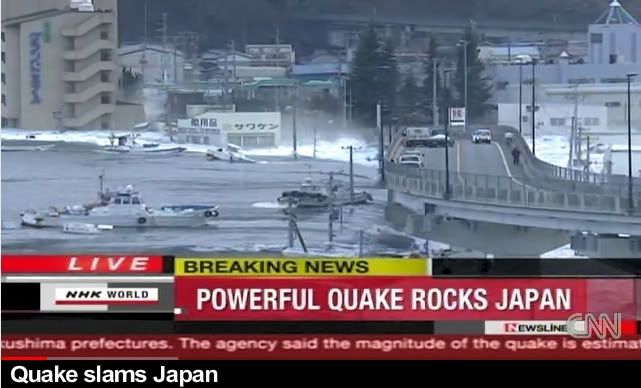 Massive earthquakes hit northeastern Japan
A series of massive earthquakes struck northeastern Japan on Friday, generating tsunami that hit wide areas of the Pacific coast. The earthquakes reportedly caused many injuries, as well as building fires.

The Meteorological Agency says the initial quake struck at 2:46 PM Friday local time, off the coast of Miyagi Prefecture. The quake's estimated magnitude has been revised upward to 8.4.

Major tsunami alerts for waves of up to 10 meters have been issued from Hokkaido in the north, to Tokushima in the west.

In Miyagi Prefecture, the quake caused tremors with an intensity of 7 -- the maximum level on the Japanese scale of 0 to 7. Strong tremors were also felt in many parts of the country, including Tokyo.

At 3:06 PM, a 2nd quake with a magnitude of 7.0 struck almost the same area.

This was followed by a magnitude 7.4 quake at 3:15 PM.
That quake originated off the coast of Ibaraki Prefecture, south of the first 2 quakes.

The 4th quake measured a magnitude of 7.2 and struck off Miyagi at 3:26 PM.

A series of tsunami are presently washing ashore. NHK cameras show many cars and houses being swept away in Miyagi and neighboring prefectures. Fires can also be seen in many areas along the Pacific coast.
Friday, March 11, 2011 17:04 +0900 (JST)
Earthquake Details
This is a computer-generated message -- this event has not yet been reviewed by a seismologist.
Magnitude

8.9

Date-Time

Friday, March 11, 2011 at 05:46:23 UTC

Friday, March 11, 2011 at 02:46:23 PM at epicenter

Location

38.322°N, 142.369°E

Depth

24.4 km (15.2 miles) set by location program

Region

NEAR THE EAST COAST OF HONSHU, JAPAN

Distances

130 km (80 miles) E of Sendai, Honshu, Japan
178 km (110 miles) E of Yamagata, Honshu, Japan
178 km (110 miles) ENE of Fukushima, Honshu, Japan
373 km (231 miles) NE of TOKYO, Japan

Location Uncertainty

horizontal +/- 13.5 km (8.4 miles); depth fixed by location program

Parameters

NST=350, Nph=351, Dmin=416.3 km, Rmss=1.46 sec, Gp= 29°,




M-type="moment" magnitude from initial P wave (tsuboi method) (Mi/Mwp), Version=A

Source

Event ID

usc0001xgp
Source: USGS
Related: Timeline of Japanese Earthquakes
English language news sources:
Kyodo News
NHK World
Japan Times
The Asahi Shimbun
The Mainchi Daily News
Daily Yomuiri Online
Video from Al Jazeera, who sadly enough, seems to be punking all the America networks in their savvy use of social media outlets like You Tube and Twitter. They even have live streams that are free on their You Tube page and their website.
Here are some videos that show various aspects of the earthquake, and the tsunami and fires that followed:
A student in Tokyo has a camera running during the earthquake. Twitter Account.