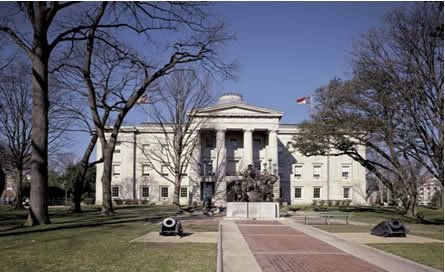 It is the 1st day of March, and the new session of the North Carolina General Assembly is well underway and here is the schedule for today. Several committees are scheduled to meet today, as well as sessions of the NC Senate and the NC House. I have included links to bill histories, downloadable PDFs of the current versions of bills and links so that you can listen to the audio feed of these meetings live...provided they are taking place in a room that is wired for audio streaming to the Internet.
If you cannot listen to these meetings live, check back later to see if I have. If I have, I'll post the audio (and a download link) for the meeting in the calendar. You can also follow what is happening in the NC General Assembly by keeping an eye on the hashtag #ncga on Twitter.
If I haven't been able to listen, please check with Voter Radio. You should already be subscribing to their podcasts anyway. I do.
ʘ‿ʘ
8:30 AM
1228/1327
8:30 AM

Appropriations on Department of Transportation

(Senate)

[No Audio]

Agenda: DMV Budget

1228-1327 LB
8:30 AM

Appropriations Subcommittee on General Government

(Joint)

[No Audio]




1425 LB
8:30 AM

Appropriations on General Government and Information Technology

(Senate)

[No Audio]

Agenda: Budget

1425 LB
8:30 AM




415 LOB
8:30 AM

Appropriations on Justice and Public Safety

(Senate)

[No Audio]




415 LOB
8:30 AM

Appropriations Subcommittee on Education

(Joint)

[No Audio]




421 LOB
8:30 AM

Appropriations on Education/Higher Education

(Senate)

[No Audio]




421 LOB
8:30 AM

Appropriations Subcommittee on Natural and Economic Resources

(Joint)

[No Audio]




423 LOB
8:30 AM

Appropriations on Natural and Economic Resources

(Senate)

[No Audio]




423 LOB
8:30 AM

Appropriations Subcommittee on Health and Human Services

(Joint)

[Live Audio]

Spending Target Discussion Review of Governor's Proposed Budget

643 LOB
8:30 AM

Appropriations on Health and Human Services

(Senate)

[Live Audio]

Agenda: Spending Target Discussion and Review of Governor's Proposed Budget

643 LOB
10:00 AM

Discussion of Health Benefit Exchanges

Check-Off Donation: Breast Cancer Screening. (

H160

)

544 LOB
10:00 AM




643 LOB
10:00 AM

Judiciary I

(Senate)

[No Audio]

Medical Liability Reforms. (

S33

)

1027 LB
10:00 AM

Judiciary II

(Senate)

[No Audio]

MDPV/Schedule I Controlled Substance. (

S77

)

1124 LB
11:00 AM

Agriculture/Environment/Natural Resources

(Senate)

[Live Audio]

Permit Terminal Groins. (

S110

)

544 LOB
11:00 AM

Ref: HB 188

Press Room LB
12:00 NOON

State and Local Government -- CANCELLED

(Senate)

[No Audio]

1124 LB
12:00 NOON

Appropriations/Base Budget

(Senate)

[No Audio]

Spending Cuts for the Current Fiscal Year. (

S109

)

1124 LB
12:00 NOON

Motorcycle Safety Act. (

H113

)

643 LOB
12:30 PM
Press Room LB
1:00 PM

Insurance -- CORRECTED

(House)

[No Audio]

1228/1327
1:00 PM

Involuntary Annexation Moratorium. (

S27

)

Presentations by the Office of State Treasurer

544 LOB
2:00 PM

(Reminder: Members may electronically cosponsor these bills until 5:00 p.m. on Wednesday)

JURISDICTION/CLARIFY DEFINITION OF BONA FIDE FARM.

(Finance) (2nd Edition)

(Government) (1st Edition)

(Finance) (2nd Edition)

DAILY CURRENCY/COINS DEPOSITS. (Government) (1st Edition)(2)

INTERNAL REVENUE CODE UPDATE. (Finance) (2nd Edition)

RELIEF FROM INCORRECT PATERNITY DETERMINATION.

(Amendments No. 1 and 2 Adopted 2/28/11) (Judiciary Subcommittee B) (2nd Edition)

REQUIREMENTS FOR MINERAL OIL SPILLS. (Environment) (2nd Edition

House
3:00 PM

BILL INTRODUCTIONS




PUBLIC BILLS-SECOND READING-ROLL CALL

IRC UPDATE. Com Sub 2/22 Finance 2/23 Unfav bill; Finance Com Sub Adopted 2/24 W/D Cal; Cal 3/1

SB 49

[

PDF

] Allran 2nd Ed. INCREASE FINE FOR SPEEDING/SCHOOL ZONES. Com Sub 2/9 Judiciary II 2/28 Unfav bill; Judiciary II Com Sub Adopted; (Chgs title)

2/14 Judiciary II 2/28 Fav THIRD READING

2/16 Ed/Higher Ed. 2/23 Unfav bill; Ed/Higher Ed. Com Sub Adopted 2/24 Passed 2nd Rdg 2/28 W/D Cal; Cal 3/1

Senate
4:00 PM

Requests for bill drafts for House Bills recommended by Study Commissions must be in Bill Drafting by 4:00 pm




4:00 PM

Requests for bill drafts for Senate local bills must be in Bill Drafting by 4:00 pm




4:00 PM

Appropriations Subcommittee on General Government

(Joint)

[No Audio]




1425 LB
4:00 PM

Appropriations on General Government and Information Technology

(Senate)

[No Audio]

Agenda: Budget

1425 LB