**7.18pm** NC House Elections Committee public hearing and debate regarding RESTORE CONFIDENCE IN GOVERNMENT ACT:
(Due to technical problems, only the first hour and a half of the meeting was recorded. I will post a link to the audio at Voter Radio when they post their version. -TP)

Link to Download MP3 VOTER RADIO Version [Part One] [Part Two]
I have copies of the Voter Radio Version archived. If the above links stop working, notify me at @ThunderPig, and I'll replace them with my copies.




**4.49pm** Rep Glazier Presser regarding NC Harm reduction and NC AIDS Action Network:

Link to Download MP3


**12.48pm** NC House Democrats Presser by Sen Nesbitt:

Link to Download MP3


**11.52am** The NC Health Alliance Presser in support of raising taxes on tobacco:

Link to Download MP3


**11.07am** Stop Voter ID Presser:

Link to Download Audio


**9.48am** Here is the audio of the Sen Berger and Speaker Tillis Presser. This one was NOT on the calendar and it is pure luck that I caught it.

Link to Download MP3

**9.36am** Here is the audio of the Technology Day presser that took place at 9am:

Link to Download MP3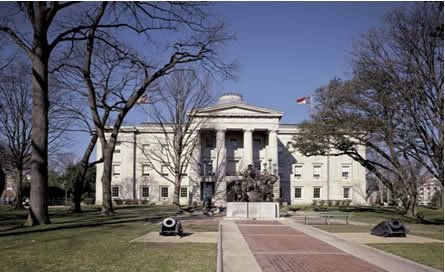 The new session of the North Carolina General Assembly is well underway and here is the very heavy schedule for today. Several committees are scheduled to meet today, as well as sessions of the NC Senate and the NC House. I have included links to bill histories, downloadable PDFs of the current versions of bills and links so that you can listen to the audio feed of these meetings live...provided they are taking place in a room that is wired for audio streaming to the Internet.
If you cannot listen to these meetings live, check back later to see if I have. If I have, I'll post the audio (and a download link) for the meeting in the calendar. You can also follow what is happening in the NC General Assembly by keeping an eye on the hashtag #ncga on Twitter.
If I haven't been able to listen, please check with Voter Radio. You should already be subscribing to their podcasts anyway. I do.
ʘ‿ʘ
**note**
I have eliminated linking to a PDF of the current version of bills to save time when preparing the post every morning. The PDFs are available by clicking the bill number and downloading them from the NC General Assembly website.
15 MIN AFTER LAST CHAMBER ADJO

Appropriations Subcommittee on Natural and Economic Resources

(House)




423 LOB
8:30 AM

Appropriations Subcommittee on General Government

(House)




1425 LB
8:30 AM

Appropriations Subcommittee on Justice and Public Safety

(House)




415 LOB
8:30 AM

Appropriations Subcommittee on Education

(House)




421 LOB
8:30 AM

Appropriations Subcommittee on Health and Human Services

(House) [Listen Live]

Agenda - Governor''s Budget Community Care of North Carolina

643 LOB
8:30 AM

Appropriations Subcommittee on Transportation

(House)

Mobility Fund and Driver Education

1327 LB
8:30 AM

Appropriations Subcommittee on Natural and Economic Resources

(House)




423 LOB
15 MIN. AFTER SESSION

Appropriations Subcommittee on Education

(House)




421 LOB
9:00 AM

Ref: Technology Day

Press Room LB
10:00 AM

No Cap on Number of Charter Schools. (

S8

)

643 LOB
10:00 AM

Health and Human Services Subcommittee on Mental Health

(House) [Listen Live]




544 LOB
10:30 AM

Ref: Voter ID

Press Room LB
11:00 AM

Rep. Weiss/ Press Conference (Time Change)

[Listen Live]

Ref. Public Health Issues

Press Room LB
12:00 PM
Press Room LB
12:00 NOON
643 LOB
1:00 PM

AGAINST MEDICAID FRAUD.

PRODUCTS TAX INCREASE.

ACCREDITATION.

ENFORCEMENT/SAFE NEIGHBORHOODS.

TRAINING/ORGANIZATIONAL REPORT REQUIRED.

PROPERTY TAX FOR CONSERVATION LAND.

ACCELERATE CLEANUP OF INDUSTRIAL PROPERTIES. (Finance) (3rd Edition)

THIRD READING - NON - ROLL CALL

MUNICIPAL ELECTIONS. (Elections) (2nd Edition)

MODIFY FEDERAL MEDICAL ASSISTANCE PERCENTAGES CUTS.

(Appropriations) (2nd Edition)

CURRENT FISCAL YEAR. (Appropriations) (2nd Edition)

House
2:00 PM




643 LOB
3:00 PM




BILL INTRODUCTIONS

SB 338

Purcell TOBACCO PRODUCTS TAX INCREASE.

SB 339

Hartsell MODIFY DRIVER EDUCATION PROGRAM.

SB 340

Hartsell STATE HISTORIC SITES SPECIAL FUND.

SB 341

McKissick AFRICAN-AMERICAN HERITAGE COMN FUNDS.

SB 342

Hunt APPROPRIATIONS ACT OF 2011.

SB 343

Brown COMMUNICATIONS REGULATORY REFORM.

SB 344

Clary Tucker Goolsby GOVERNMENT TRANSPARENCY ACT OF 2011.

SB 345

Garrou Allran ENCOURAGE INVEST TO RETAIN ART 3A INSTALLMENT.

MESSAGES FROM THE HOUSE OF REPRESENTATIVES




PUBLIC BILLS - FOR CONCURRENCE

1/31 Judiciary II 2/7 Fav 2/8 W/D Cal; Cal 2/10 2/10 Passed 2nd & 3rd Rdgs; To House

3/11 Rec'd for concurrence House Com Sub No. 2 (Chgs title)

SB 22

Brown, Rouzer 4th Ed. APA RULES: INCREASING COSTS PROHIBITION. House Com Sub 2/2 Ag./Envir./Nat Res. 2/8 Unfav bill; Ag./Envir./Nat Res. Com Sub Adopted

2/9 Atwater Amd No. 1 Adopted; Passed 2nd & 3rd Rdgs; Engrossed; To House

3/11 Rec'd for concurrence House Com Sub (Chgs title) APA RULES: LIMIT ADDITIONAL COSTS.

Senate
4:00 PM

Appropriations Subcommittee on General Government

(House)




1425 LB
4:00 PM

Appropriations Subcommittee on Justice and Public Safety

(House)




415 LOB
4:00 PM

Appropriations on Justice and Public Safety

(Senate)




415 LOB
4:00 PM

Ref: NC Harm Reduction Coalition & North Carolina AIDS Action Network

Press Room LB