**4.31pm** Here is audio from the strange case of the repeated removal of SJR 256 from the calendar by NC Senator Tom Apodaca.

Link to Download MP3



Commentary
I don't normally comment on the audio I record of these things. Here, I cannot help myself. In the above audio, NC Senator Tom Apodaca implies that the Republican caucus itself has problems with the bill. His (and/or their) method of dealing with it is to kill it by sending it to the rules committee. Under the 140 year rule of the democrats, this meant the bill that was sent their was dead for all intents and purposes. WTF? Does this mean that a significant number of my fellow Republicans have problems with this bill, and are too afraid to speak about it in the open? What gives here? I do not understand this at all. The bill's purpose is to right a wrong done to a Republican Governor who was impeached and removed from office by Democrats because he stood up to the Ku Klux Klan. The bill sponsors are seeking to right a wrong.
I cannot understand why Apodaca or the Republican Caucus is against this. If someone understands what is going on, please enlighten me. The Democrats played politics by getting rid of the Governor who stood up for blacks... in the face of violence from the KKK. I hate to think that my fellow Republicans are playing politics with their effort to right this wrong. Shame on them if they are.
Shame, shame, shame!
Here is the full text and history of the bill:
History
| Date | Chamber | Action |
| --- | --- | --- |
| 03/08/2011 | Senate | Filed |
| 03/09/2011 | Senate | Passed 1st Reading |
| 03/09/2011 | Senate | Ref To Com On Rules and Operations of the Senate |
| 03/21/2011 | Senate | Withdrawn From Com |
| 03/21/2011 | Senate | Placed On Cal For 3/22/2011 |
| 03/22/2011 | Senate | Withdrawn From Cal |
| 03/22/2011 | Senate | Placed On Cal For 3/23/2011 |
| 03/23/2011 | Senate | Withdrawn From Cal |
| 03/23/2011 | Senate | Re-ref Com On Rules and Operations of the Senate |
Bill Text
SJR 256 to Pardon NC Governor Holden
**4.29pm** Here is audio of todays session of the NC Senate:
Link to Download MP3
**2.07pm**

Here is the audio from the NC House elections Committee Meeting that took place today at 1pm:
Link to Download MP3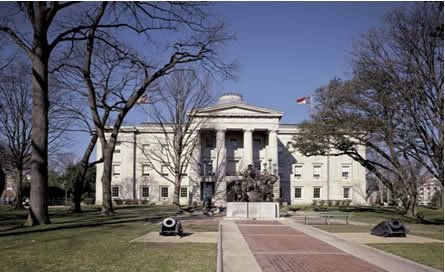 The new session of the North Carolina General Assembly is well underway and here is the very heavy schedule for today. Several committees are scheduled to meet today, as well as sessions of the NC Senate and the NC House. I have included links to bill histories, downloadable PDFs of the current versions of bills and links so that you can listen to the audio feed of these meetings live...provided they are taking place in a room that is wired for audio streaming to the Internet.
If you cannot listen to these meetings live, check back later to see if I have. If I have, I'll post the audio (and a download link) for the meeting in the calendar. You can also follow what is happening in the NC General Assembly by keeping an eye on the hashtag #ncga on Twitter.
If I haven't been able to listen, please check with Voter Radio. You should already be subscribing to their podcasts anyway. I do.
ʘ‿ʘ
**note** I have eliminated linking to a PDF of the current version of bills to save time when preparing the post every morning. The PDFs are available by clicking the bill number and downloading them from the NC General Assembly website.
8:30 AM AND 4:00 PM

Appropriations Subcommittee on Justice and Public Safety

(Joint)

Please note that the committee will meet at 8:30 a.m. and 4:00 p.m.

415 LOB
8:00 AM

State Health Plan/Appropriations and Transfer (

S265

)

643 LOB
8:30 AM

Level Playing Field/Local Gov't Competition. (

H129

)

544 LOB
8:30 AM

Appropriations Subcommittee on Transportation

(Joint)




1228/1327
8:30 AM

Appropriations on Department of Transportation

(Senate)

Agenda: NC Railroad, Global Transpark

1228-1327 LB
8:30 AM

Appropriations Subcommittee on General Government

(Joint)




1425 LB
8:30 AM

Appropriations on General Government and Information Technology

(Senate)

Agenda: Dept. of Cultural Resources Budget Presentation

1425 LB
8:30 AM

Appropriations on Justice and Public Safety

(Senate)




415 LOB
8:30 AM

Appropriations Subcommittee on Natural and Economic Resources

(Joint)




423 LOB
8:30 AM

Appropriations on Natural and Economic Resources

(Senate)




423 LOB
8:30 AM

Appropriations on Health and Human Services

(Senate)

[Live Audio]

Agenda: Consolidation Options and Block Grants

643 LOB
8:45 AM

Appropriations Subcommittee on Health and Human Services

(Joint)

[Live Audio]

Agenda - Consolidation Options and Block Grants

643 LOB
10:00 AM

Judiciary Subcommittee A

(House)

1327 LB
10:00 AM

Commerce and Job Development Subcommittee on Science and Technology -- CORRECTED

(House)

Prohibit Mobile Phone Use/Hands-Free Only. (

H44

)

1425 LB
10:00 AM

Judiciary Subcommittee C

(House)

415 LOB
10:00 AM

Judiciary Subcommittee B

(House)

421 LOB
10:00 AM

Judiciary Subcommittee B

(House)

421 LOB
10:00 AM

Judiciary Subcommittee B

(House)

421 LOB
10:00 AM

Insurance Amendments.-AB (

S323

)

1027 LB
10:00 AM
544 LOB
11:00 AM

House Select Committee on Tort Reform -- CORRECTED

(House)

Present bill

425 LOB
11:00 AM

Selective Vegetation Removal/State Highways . (

S183

)

1027 LB
11:00 AM

Ref: Gov. Hunt - Smart Start

Press Room LB
12:00 PM

Ref: HB160

Press Room LB
12:00 NOON

Mental Health & Youth Services

(Senate)

Add'l Section 1915 Medicaid Waiver Sites. (

S316

)

414 LOB
12:00 NOON

Utilities Commission/Criminal Records Check. (

H340

)

643 LOB
1:00 PM

The purpose of the meeting will be to discuss HB 351 beginning with Sections 2 through 6 and returning to Section 1 if time permits.The Chair will not be accepting any motions on the Bill. The Committee will take no votes on the reporting of the Bill.

Restore Confidence in Government. (

H351

)

643 LOB
2:00 PM

(Reminder: Members may electronically cosponsor these bills until 5:00 p.m. on Thursday.)

AMEND CONDITIONS OF PROBATION. (Judiciary/B) (2nd Edition)

ALLOW PHYSICIAN ASSISTANTS AND NURSE PRACTITIONERS TO SIGN

DEATH CERTIFICATIONS. (Health and Human Services) (2nd Edition)

TESTING IN SCHOOLS. (Education) (1st Edition)(2)

REGULATING PROPRIETARY SCHOOLS. (Education) (2nd Edition)

House
3:00 PM

2/24 St. and Loc. Gov. 3/22 Unfav bill; St. and Loc. Gov. Com Sub Adopted (Chgs title)

2/28 St. and Loc. Gov., if Fav Finance 3/8 Fav; rerefer Finance 3/22 Fav

3/3 St. and Loc. Gov. 3/22 Fav

3/10 St. and Loc. Gov. 3/22 Fav

2/22 Commerce 3/15 Unfav bill; Commerce Com Sub Adopted (Chgs title); rerefer Finance

3/22 Unfav Com Sub; Finance Com Sub No. 2 Adopted EXTEND E-NC SUNSET.

2/23 Judiciary II 3/22 Fav

2/23 Finance 3/22 Unfav bill; Finance Com Sub Adopted

2/28 Ed/Higher Ed.; if Fav Finance 3/16 Fav; rerefer Finance 3/22 Fav, as amended;

Comm Amd. No. 1 Adopted; Engrossed

3/9 Rules 3/21 W/D Rules; Cal 3/22 3/22 W/D Cal; Cal 3/23

3/10 St. and Loc. Gov. 3/22 Fav

3/21 Ag./Envir./Nat Res. 3/22 Unfav bill; Ag./Envir./Nat Res. Com Sub Adopted

2/17 Judiciary I 3/21 Unfav Com Sub; Sen Judiciary I Com Sub Adopted 3/22 W/D Cal; Cal 3/23

2/28 Ag./Envir./Nat Res. 3/22 Fav

3/2 Ag./Envir./Nat Res. 3/22 Fav

Senate
4:00 PM

Appropriations Subcommittee on General Government

(Joint)




1425 LB
4:00 PM

Appropriations on General Government and Information Technology

(Senate)

Agenda: Office of State Budget & Management Budget Presentation

1425 LB
4:00 PM

Appropriations on Justice and Public Safety

(Senate)




415 LOB