3.29pm** The bill to pardon NC Governor Holden has been removed from today's calendar and will be placed on tomorrow's calendar. Here is the audio of that announcement. What the heck is going on?

Link to Download Audio


**10.25am** Here is the audio from the Berger and Tillis Presser, which started nearly 20 minutes late this week:

Link to Download MP3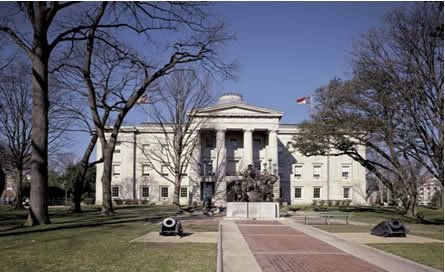 The new session of the North Carolina General Assembly is well underway and here is the very heavy schedule for today. Several committees are scheduled to meet today, as well as sessions of the NC Senate and the NC House. I have included links to bill histories, downloadable PDFs of the current versions of bills and links so that you can listen to the audio feed of these meetings live...provided they are taking place in a room that is wired for audio streaming to the Internet.
If you cannot listen to these meetings live, check back later to see if I have. If I have, I'll post the audio (and a download link) for the meeting in the calendar. You can also follow what is happening in the NC General Assembly by keeping an eye on the hashtag #ncga on Twitter.
If I haven't been able to listen, please check with Voter Radio. You should already be subscribing to their podcasts anyway. I do.
ʘ‿ʘ
**note**
I have eliminated linking to a PDF of the current version of bills to save time when preparing the post every morning. The PDFs are available by clicking the bill number and downloading them from the NC General Assembly website.
8:30 AM AND 4:00 PM

Appropriations Subcommittee on Justice and Public Safety

(House)




415 LOB
8:30 AM

Appropriations Subcommittee on Transportation

(House)




1327 LB
8:30 AM

Appropriations Subcommittee on General Government

(House)




1425 LB
8:30 AM

Appropriations Subcommittee on Natural and Economic Resources -- CORRECTED

(House)




423 LOB
8:30 AM

Appropriations Subcommittee on Health and Human Services

(House) [Live Audio]

Adenda - Healthchoice

643 LOB
8:30 AM

Appropriations on Department of Transportation

(Senate)

Agenda: Transfers

1228-1327 LB
8:30 AM

Appropriations on General Government and Information Technology

(Senate)

Agenda: Dept. of Cultural Resources Budget Presentation

1425 LB
8:30 AM

Appropriations on Justice and Public Safety

(Senate)




415 LOB
8:30 AM

Appropriations on Natural and Economic Resources

(Senate)




423 LOB
8:30 AM

Appropriations on Health and Human Services

(Senate)

[Live Audio]

Agenda: Health Choice

643 LOB
9:00 AM
Press Room LB
9:30 AM

Transfer State Health Plan to State Treasurer. (

S265

)

1027 LB
10:00 AM

Health and Human Services -- CORRECTED

(House)

[Live Audio]

544 LOB
10:00 AM
643 LOB
10:00 AM

Judiciary I CANCELLED

(Senate)

Victims' Compensation Law Changes.-AB (

S272

)

1027 LB
10:00 AM

Increase Penalty/2nd Degree Murder. (

S105

)

1124 LB
11:00 AM

House Select Committee on University Board of Governors Nominations

(House)




1327 LB
11:00 AM

NC School of Biotechnology and Agriscience. (

S125

)

Agenda: Consider confirmation of Governor's reappointment of Joseph A. Smith, Commissioner of Banks.

1027 LB
11:00 AM

Agriculture/Environment/Natural Resources

(Senate)

[Live Audio]

544 LOB
12:00 NOON

State and Local Government

(Senate)

1124 LB
12:00 NOON
643 LOB
1:00 PM

REMOVE HB 245

Bldg. Codes/Expand Equine Exemption. (

H329

)

643 LOB
1:00 PM
544 LOB
2:00 PM

INTRODUCED BILLS

(Reminder: Members may electronically cosponsor these bills until 5:00 p.m. on Wednesday.)

HB 411

Howard - IREDELL CORRECTIONAL FACILITY/DEPARTMENT OF

TRANSPORTATION STORAGE.

HB 412

Farmer-Butterfield, Parmon and Hall (Primary Sponsors) - STUDY USE OF

ALTERNATIVE MEDICINE.

HB 413

Parmon and Womble (Primary Sponsors) - WINSTON-SALEM/FORSYTH

SCHOOL BOARD.

HB 414

Hager - AMEND RUTHERFORD COUNTY OCCUPANCY TAX.

HB 415

Justice - TOPSAIL BEACH/LITTORAL RIGHTS.

HB 416

Owens - EXPAND JOYCE CREEK DISTRICT BOARD.

HB 417

McGrady - EXTEND TIME FOR SITE OF LOW/MODERATE-INCOME

HOUSING.

HB 418

L. Brown - WINSTON-SALEM DEANNEXATION.

HB 419

Harrison - NORTH CAROLINA BENEFIT CORPORATION ACT.

HB 420

Iler - OAK ISLAND/WHEEL LOCKS.

HB 421

Iler - FUEL TAX REFUND FOR MARINAS.

HB 422

Killian and Frye (Primary Sponsors) - NO HIGH-SPEED RAIL MONEY FROM

FEDERAL GOVERNMENT.

FOR ADOPTION HR 404

Dollar, Earle and LaRoque (Primary Sponsors) - DIABETES ALERT DAY.

(Pursuant to Rule 32 (a), Placed on Calendar - 3/22/11) (1st Edition)

LOCAL BILLS - THIRD READING - ROLL CALL HB 26

McGrady and Guice (Primary Sponsors) - HENDERSON COUNTY FIRE

DISTRICTS. (Finance) (1st Edition)

SECOND AND THIRD READINGS HB 192

Brandon and Adams (Primary Sponsors) - GREENSBORO RENTAL PROPERTY

UTILITY LIENS. (Government) (1st Edition)(2)

PUBLIC BILLS - SECOND READING - ROLL CALL HB 61

Blust and Tillis (Primary Sponsors) - SPEAKER/PRO TEMPORE TERM LIMITS.

(Judiciary/A) (1st Edition)

HB 87

Committee Substitute - LaRoque and T. Moore (Primary Sponsors) - SUNSHINE

AMENDMENT. (Amendment No. 1 Adopted 3/17/11) (Amendment No. 2 Pending)

(Rules, Calendar, and Operations of the House) (2nd Edition)

THIRD READING - NON-ROLL CALL HB 234

Committee Substitute - Glazier, Stevens, Parfitt and Samuelson (Primary Sponsors)

JUROR QUALIFICATIONS/DISABILITIES. (Judiciary/A) (2nd Edition)

SECOND AND THIRD READINGS HB 90

Committee Substitute - Ross - CONFECTIONERS MAY USE UP TO 5%

ALCOHOL BY VOLUME.

(Commerce and Job Development/Alcoholic Beverage Control) (2nd Edition)

HB 205

Hastings, T. Moore, McCormick and Folwell (Primary Sponsors) - MOTORCYCLE

AWARENESS MONTH.

(Rules, Calendar, and Operations of the House) (1st Edition)

HB 270

Committee Substitute - Guice, Horn, Ingle and Faircloth (Primary Sponsors) -

AMEND CONDITIONS OF PROBATION. (Judiciary/B) (2nd Edition)

House
3:00 PM

BILL INTRODUCTIONS SR 381

Stevens NC FAMILY & CONSUMER SCIENCES 100TH.

SB 382

Apodaca REQUIRED WITHHOLDING FOR NONRESIDENTS.

SB 383

Apodaca TANF BLOCK GRANT FUNDS/BOYS & GIRLS CLUB.

SB 384

Hartsell CONFORMING CHANGES/PERSONS W/DISABILITIES ACT.

SB 385

Hartsell SMALL BUSINESS ASSISTANCE RECORDS.

SB 386

Kinnaird REPEAL G.S. 95-98.

SB 387

Jackson Blake NC HORSE COUNCIL SPECIAL PLATE.

SB 388

East Rouzer Jackson TRANSFER FORESTRY & FORESTRY COUNCIL TO DACS.

SB 389

EastRouzer Apodaca TRANSFER CHILD NUTRITION PROGRAM TO DACS.

PUBLIC BILLS - SECOND READING SB 16

D. Berger, East 2nd Ed. REQUIRE BLOOD TEST FOR ALL DEATHS BY VEHICLE. Com Sub 2/1 Judiciary II OBTAIN BLOOD SAMPLE/IMPLIED-CONSENT LAWS.

3/21 Unfav bill; Sen Judiciary II Com Sub Adopted (Chgs title)

SB 26

Vaughan, Stevens, Kinnaird 2nd Ed. NORTH CAROLINA BENEFIT CORPORATION ACT. Com Sub 2/2 Judiciary I 3/21 Unfav bill; Judiciary I Com Sub Adopted

SB 98

McKissick, Atwater 911 CALL TRANSCRIPTS.

2/23 Judiciary II 3/21 Fav

SB 191

Mansfield 2nd Ed. ALLOW NURSE PRACTITIONERS TO SIGN DEATH CERT.

Com Sub 3/3 Judiciary I 3/21 Unfav bill; Judiciary I Com Sub Adopted (Chgs title) DEATH CERTIFICATE SIGNATURES.

SJR 256

Hunt PARDON GOVERNOR HOLDEN.

3/9 Rules 3/21 W/D Rules; Cal 3/22

HB 27

(Id S 40) Glazier, Stam, Michaux, Jackson 4th Ed. FORENSIC SCIENCES ACT. Sen Com Sub 2/17 Judiciary I 3/21 Unfav Com Sub; Sen Judiciary I Com Sub Adopted

FOR ADOPTION SR 371

(Id H 404) Apodaca DIABETES ALERT DAY. 3/21 Cal 3/22

Senate
4:00 PM

Appropriations Subcommittee on General Government

(House)




1425 LB
4:00 PM

Appropriations on General Government and Information Technology

(Senate)

Agenda: Dept. of Cultural Resources Budget Presentation

1425 LB
4:00 PM

Appropriations on Justice and Public Safety

(Senate)




415 LOB