**5.23pm** Here is the audio of the first meeting in the process of redistricting. It consisted mainly of staff from the Research Division bringing the membership (minus the NC House members, who were debating a time sensitive bill...they will have a makeup meeting at a later date) up to speed on the legal requirements and the mechanics of the redistricting process. I learned a lot from the meeting, and I hope you will, too:

Link to Download MP3


**8.54am** This calendar has been posted late this morning due to an overnight power outage and loss of Internet Service. I apologize for any inconvenience this may have caused.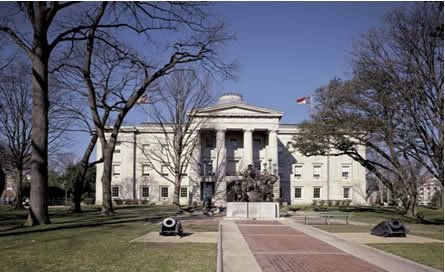 The new session of the North Carolina General Assembly is well underway and here is the very heavy schedule for today. Several committees are scheduled to meet today, as well as sessions of the NC Senate and the NC House. I have included links to bill histories, downloadable PDFs of the current versions of bills and links so that you can listen to the audio feed of these meetings live...provided they are taking place in a room that is wired for audio streaming to the Internet.
If you cannot listen to these meetings live, check back later to see if I have. If I have, I'll post the audio (and a download link) for the meeting in the calendar. You can also follow what is happening in the NC General Assembly by keeping an eye on the hashtag #ncga on Twitter.
If I haven't been able to listen, please check with Voter Radio. You should already be subscribing to their podcasts anyway. I do.
ʘ‿ʘ
**note** I have eliminated linking to a PDF of the current version of bills to save time when preparing the post every morning. The PDFs are available by clicking the bill number and downloading them from the NC General Assembly website.
15 MINUTES AFTER LAST SESSION

Appropriations on Health and Human Services -- CORRECTED

(Senate)

[Live Audio]

COMMENTS: Agenda - Division of Child Development and Smart Start

643 LOB
8:30 AM

Appropriations Subcommittee on General Government -- CANCELLED

(House)




1425 LB
8:30 AM

Appropriations on General Government and Information Technology -- CANCELLED

(Senate)

DCR: Tryon Palace, Roanoke Island Commission and Battleship Commission

1425 LB
8:30 AM

Appropriations Subcommittee on Natural and Economic Resources -- CANCELLED

(House)




423 LOB
8:30 AM

Appropriations on Natural and Economic Resources -- CANCELLED

(Senate)




423 LOB
8:30 AM

Finance -- CANCELLED

(House)

[Live Audio]

544 LOB
8:30 AM

State Health Plan/Appropriations and Transfer. (

S265

)

643 LOB
8:30 AM

Appropriations Subcommittee on Health and Human Services -- CANCELLED

(House)




643 LOB
8:30 AM

Appropriations Subcommittee on Transportation -- CANCELLED

(House)




1228/1327
8:30 AM

Appropriations on Department of Transportation -- CANCELLED

(Senate)

Agenda: Privatization Sponsorships

1228-1327 LB
10:00 AM

Judiciary Subcommittee C

(House)

415 LOB
10:00 AM

Judiciary Subcommittee B -- CORRECTED

(House)

421 LOB
10:00 AM

Judiciary Subcommittee A

(House) [Live Audio]

1228/1327
10:00 AM
544 LOB
11:00 AM

Rules, Calendar, and Operations of the House -- CORRECTED

(House)

[Live Audio]

643 LOB
11:00 AM

School Buses/State Vehicles/Tires. (

S416

)

1027 LB
11:00 AM
544 LOB
12:00 PM
Press Room LB
12:00 NOON
544 LOB
12:00 NOON

Communications Regulatory Reform. (

H383

)

643 LOB
1:00 PM

The committee will be considering a Proposed Committee Substitute for HB 351

Restore Confidence in Government. (

H351

)

643 LOB
1:00 PM

Pensions & Retirement and Aging -- CORRECTED

(Senate)

1027 LB
2:00 PM




House
2:00 PM




Senate
3:00 PM

Bill drafts for House local bills must be filed by 3:00 pm










3:00 PM

Agenda: Informational presentation by staff

643 LOB






4:00 PM

Appropriations on General Government and Information Technology

(Senate)

Agenda: Budget

1425 LB