**9.42am** The NC House Finance Committee met to discuss various bills repealing or suspending annexations of various "bad actor" municipalities in North Carolina. Here is the audio of most of that meeting:


Link to Download MP3

And here is the audio of the portion of that meeting dealing with a notoriously "bad actor" in the western region of North Carolina, Asheville. The community of Biltmore Lake is seeking to have their annexation into the City of Asheville repealed. The committee gave the bill a favorable report. Here is the audio of that portion of the meeting:

Link to Download MP3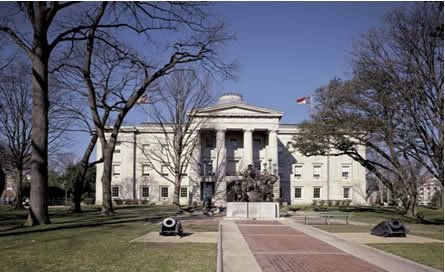 The new session of the North Carolina General Assembly is well underway and here is the schedule for today. Since this is Thursday, most of the action is taking place in the morning in order to facilitate an early dismissal for the weekend. Several committees are scheduled to meet today, as well as sessions of the NC Senate and the NC House. I have included links to bill histories, downloadable PDFs of the current versions of bills and links so that you can listen to the audio feed of these meetings live...provided they are taking place in a room that is wired for audio streaming to the Internet.
If you cannot listen to these meetings live, check back later to see if I have. If I have, I'll post the audio (and a download link) for the meeting in the calendar. You can also follow what is happening in the NC General Assembly by keeping an eye on the hashtag #ncga on Twitter.
If I haven't been able to listen, please check with Voter Radio. You should already be subscribing to their podcasts anyway. I do.
ʘ‿ʘ
**note** I have eliminated linking to a PDF of the current version of bills to save time when preparing the post every morning. The PDFs are available by clicking the bill number and downloading them from the NC General Assembly website.
1:00 PM OR 15 MIN AFT SESSION

Appropriations Subcommittee on General Government

(Joint)




1425 LB
8:30 AM
544 LOB
8:30 AM

Appropriations Subcommittee on Health and Human Services -- CORRECTED

(House)

[Live Audio]

Agenda - Block Grants

643 LOB
8:30 AM

Appropriations on Department of Transportation

(Senate)

Agenda:

1228-1327 LB
8:30 AM

Appropriations Subcommittee on Transportation

(Joint)




1327 LB
8:30 AM

Appropriations Subcommittee on General Government

(Joint)




1425 LB
8:30 AM

Appropriations on General Government and Information Technology

(Senate)

Agenda: Dept. of Revenue Budget Presentation

1425 LB
8:30 AM

Appropriations Subcommittee on Justice and Public Safety

(Joint)




415 LOB
8:30 AM

Appropriations on Justice and Public Safety

(Senate)




415 LOB
8:30 AM

Appropriations Subcommittee on Natural and Economic Resources

(Joint)




423 LOB
8:30 AM

Appropriations on Natural and Economic Resources

(Senate)




423 LOB
8:30 AM

Appropriations Subcommittee on Health and Human Services

(Joint)

[Live Audio]

Agenda - Division of Child Development and Smart Start

643 LOB
8:30 AM

Appropriations on Health and Human Services

(Senate)

[Live Audio]

Agenda: Block Grants

643 LOB
10:00 AM

Presentation on the study of oil and gas exploration in the Triassic Basin Staff of the Department of Environment and Natural Resources

Disapprove Certain Reclaimed Water Rules. (

H268

)

544 LOB
10:00 AM

Topsail Beach Recall Elections. (

H193

)

Topsail Beach Charter Amendment. (

H194

)

Union Fire Fee Sunset Repealed. (

H97

)

Parking Fine Increase for the City of Monroe. (

H202

)

Edgecombe Co. Tourism Development Authority. (

H204

)

Town of Cramerton/Regulate Utility Vehicles. (

H212

)

Incorporate Lake James. (

H256

)

Tax Certification - Alamance County. (

S29

)

Robeson Hunting and Fishing. (

S68

)

Orange County Local Disclosure Act Repeal. (

S81

)

Topsail Beach/Littoral Rights. (

H415

)

Apex/Cary Annexation Into Chatham Restricted. (

H358

)

Winston-Salem Deannexation. (

H418

)

Goldsboro Deannexation. (

H196

)

Wake Local Stormwater Utility Fees. (

S155

)

643 LOB
10:00 AM

Devisee/Devise/Statutory Construction. (

S252

)

1027 LB
10:00 AM

Sex Offense/Child Witness Remote Testimony. (

S42

)

1124 LB
11:00 AM

Commerce -- CANCELLED

(Senate)

1027 LB
11:00 AM

TRANSFER STATE HEALTH PLAN TO STATE TREASURER. Com Sub No. 2

3/9 Pens./Ret./Aging 3/14 W/D Pens./Ret./Aging; rerefer Insurance;

3/22 Unfav bill; Insurance Com Sub Adopted; (Chgs title); rerefer Appro./Base Bud.

STATE HEALTH PLAN/APPROPRIATIONS AND TRANSFER.

3/23 Unfav Com Sub; Appro./Base Bud. Com Sub Adopted

3/10 Ed/Higher Ed. 3/23 Fav

Senate
12:00 NOON

Banking -- CORRECTED

(House)

1327 LB
1:00 PM

(Reminder: Members may electronically cosponsor these bills until 5:00 p.m. on Friday.)

PHARMACISTS' IMMUNIZING AUTHORITY.

RECOMBINANT BOVINE GROWTH HORMONE IN FOOD.

INCREASED/VEHICLE SEIZURES.

RESOURCES COMMISSION TO STUDY CONSTRUCTION ON SLOPES.

FIXTURES USING STATE FUNDS.

MAXIMUM AGE FOR PUBLIC SCHOOL.(2)

ELECTRIC UTILITIES/UTILITIES COMMISSION OVERSIGHT.

COLLEGE ADMINISTRATION STUDY.

LEVEL PLAYING FIELD/LOCAL GOVERNMENT COMPETITION.

(Finance) (2nd Edition)

UNBORN VICTIMS OF VIOLENCE ACT/ETHEN'S LAW.

(Judiciary/B) (2nd Edition)

ORGANIZATIONS/MAKE UNIFORM. (Judiciary/A) (1st Edition)

House
1:00 PM

Appropriations on General Government and Information Technology

(Senate)

*Or 15 min. after session adjourns
Agenda: Dept. of Revenue Budget Presentation

1425 LB
4:00 PM

Requests for bill drafts for House public bills (not Appropriations or Finance) must be in Bill Drafting by 4:00 pm