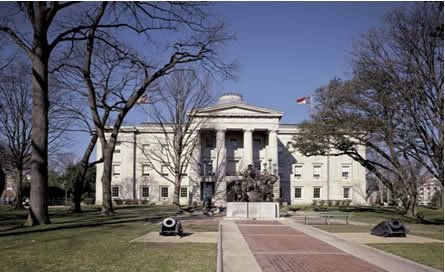 The new session of the North Carolina General Assembly is well underway and here is the very heavy schedule for today. Several committees are scheduled to meet today, as well as sessions of the NC Senate and the NC House. I have included links to bill histories, downloadable PDFs of the current versions of bills and links so that you can listen to the audio feed of these meetings live...provided they are taking place in a room that is wired for audio streaming to the Internet.
If you cannot listen to these meetings live, check back later to see if I have. If I have, I'll post the audio (and a download link) for the meeting in the calendar. You can also follow what is happening in the NC General Assembly by keeping an eye on the hashtag #ncga on Twitter.
If I haven't been able to listen, please check with Voter Radio. You should already be subscribing to their podcasts anyway. I do.
ʘ‿ʘ
**note**
I have eliminated linking to a PDF of the current version of bills to save time when preparing the post every morning. The PDFs are available by clicking the bill number and downloading them from the NC General Assembly website.
8:30 AM

Appropriations on Education/Higher Education

(Senate)




421 LOB
8:00 AM

Appropriations Subcommittee on Natural and Economic Resources -- CORRECTED

(House)




423 LOB
8:30 AM

Appropriations Subcommittee on Transportation

(House)

State Highway Patrol


1327 LB
8:30 AM

Appropriations Subcommittee on General Government

(House)




1425 LB
8:30 AM

Appropriations Subcommittee on Justice and Public Safety

(House)




415 LOB
8:30 AM

Appropriations Subcommittee on Education

(House)




421 LOB
8:30 AM
544 LOB
8:30 AM

Appropriations Subcommittee on Health and Human Services

(House)

[Listen Live]

Agenda - Community Care of North Carolina


643 LOB
8:30 AM

Appropriations on Department of Transportation

(Senate)

Agenda: State Highway Patrol


1228-1327 LB
8:30 AM

Appropriations on General Government and Information Technology

(Senate)

Agenda: Budget


1425 LB
8:30 AM

Appropriations on Justice and Public Safety

(Senate)




415 LOB
8:30 AM

Appropriations on Natural and Economic Resources

(Senate)




423 LOB
8:30 AM

Appropriations on Natural and Economic Resources

(Senate)




423 LOB
8:30 AM

Appropriations on Health and Human Services

(Senate)

[Listen Live]

COMMENTS: Agenda - Community Care of North Carolina


643 LOB
15 MIN. AFTER SESSION

Appropriations Subcommittee on Education

(House)




421 LOB
10:00 AM

Judiciary Subcommittee A -- CORRECTED

(House)

1327 LB
10:00 AM

Commerce and Job Development Subcommittee on Business and Labor

(House)

424 LOB
10:00 AM

Commerce and Job Development Subcommittee on Alcoholic Beverage Control

(House)

425 LOB
10:00 AM

Judiciary Subcommittee B

(House)

421 LOB
10:00 AM
544 LOB
11:00 AM
544 LOB
12:00 NOON

The following Bill is for discussion only.

Electric Cities/Uses of Rate Revenue. (

H117

)

643 LOB
1:00 PM

Rules, Calendar, and Operations of the House -- CORRECTED

(House)

1327 LB
1:00 PM

Repeal Land Transfer Tax. (

H92

)

544 LOB
2:00 PM

(Reminder: Members may electronically cosponsor these bills until 5:00 p.m. on Thursday.)

HOMEOWNERS' ASSOCIATIONS PROPERTY.

COUNSELING FOR JURORS.

UNIVERSITY/BOARD OF GOVERNORS DENTAL SCHOLARSHIP-LOAN.

CHATHAM RESTRICTED.

UNAFFILIATED.

EMPTY.

ELECTION DATES.

(2nd Edition)

House
3:00 PM

Bill drafts for House Bills requested by State Agencies must be filed by 3:00 pm




3:00 PM

3/9 Finance 3/15 Fav

3/2 St. and Loc. Gov. 3/8 Fav; rerefer Finance 3/15 Fav

3/3 St. and Loc. Gov. 3/15 Fav

3/9 St. and Loc. Gov. 3/15 Fav

3/9 St. and Loc. Gov. 3/15 Fav

3/9 St. and Loc. Gov. 3/15 Fav

2/24 St. and Loc. Gov. 3/8 Fav; rerefer Finance

3/15 FavWednesday, March 16, 2011 SENATE CALENDAR Legislative Day 29

2/16 Commerce 3/15 Unfav bill; Commerce Com Sub Adopted

2/28 Judiciary I 3/15 Fav

3/1 Commerce 3/15 Fav

3/7 St. and Loc. Gov. 3/15 Fav

3/15 Unfav bill; Ag./Envir./Nat Res. Com Sub Adopted (Chgs title)

Senate
4:00 PM

Requests for bill drafts for House local bills must be in Bill Drafting by 4:00 pm




4:00 PM

Appropriations Subcommittee on General Government

(House)




1425 LB
4:00 PM

Appropriations on General Government and Information Technology

(Senate)

Agenda: Budget


1425 LB
4:00 PM

Appropriations Subcommittee on Justice and Public Safety

(House)




415 LOB
4:00 PM

Appropriations on Education/Higher Education

(Senate)

*or 15 min. after last chamber adjourns (whichever is later)


421 LOB
15 MINS. AFTER LAST CHAMBER ADJOURNS

Appropriations on Natural and Economic Resources

(Senate)




423 LOB