**2.17pm** Instead of embedding the audio of the Weiss Presser in the calendar, I'm posting it on the top for ease of access. Representative Weiss held a Press Conference today in opposition to House Bills #93 & #117. Here is the full audio:


Download MP3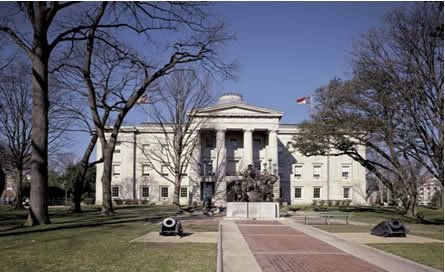 The new session of the North Carolina General Assembly is well underway and here is the very heavy schedule for today. Several committees are scheduled to meet today, as well as sessions of the NC Senate and the NC House. I have included links to bill histories, downloadable PDFs of the current versions of bills and links so that you can listen to the audio feed of these meetings live...provided they are taking place in a room that is wired for audio streaming to the Internet.
If you cannot listen to these meetings live, check back later to see if I have. If I have, I'll post the audio (and a download link) for the meeting in the calendar. You can also follow what is happening in the NC General Assembly by keeping an eye on the hashtag #ncga on Twitter.
If I haven't been able to listen, please check with Voter Radio. You should already be subscribing to their podcasts anyway. I do.
ʘ‿ʘ
15 MIN. AFTER LAST CHAMBER ADJOURNS

Appropriations on Natural and Economic Resources

(Senate)




423 LOB
15 MINUTES AFTER SESSION

Appropriations Subcommittee on Natural and Economic Resources

(Joint)




423 LOB
8:30 AM

Appropriations/Base Budget -- CORRECTED

(Senate)

1124 LB
8:30 AM

Appropriations/Base Budget -- CORRECTED

(Senate)

1224 LB
8:30 AM

Appropriations Subcommittee on Transportation

(House)




1327 LB
8:30 AM




544 LOB
8:30 AM

Appropriations on Department of Transportation

(Senate)

Agenda: Ferry, Rail and Aviation Division

1228 -1327 LB
8:30 AM

Appropriations on Department of Transportation

(Senate)

Agenda: Ferry, Rail and Aviation Division

1228-1327 LB
8:30 AM

Appropriations on General Government and Information Technology

(Senate)

Agenda: Budget

1425 LB
8:30 AM

Appropriations Subcommittee on Justice and Public Safety

(Joint)




415 LOB
8:30 AM

Appropriations on Justice and Public Safety -- CORRECTED

(Senate)




415 LOB
8:30 AM

Appropriations Subcommittee on Education

(Joint)




421 LOB
8:30 AM

Appropriations on Natural and Economic Resources

(Senate)




423 LOB
8:30 AM

Appropriations Subcommittee on Health and Human Services

(Joint) [Live Audio]

Agenda - Medicaid Presentation Continued Piedmont Behavioral Healthcare

643 LOB
8:30 AM

Appropriations on Health and Human Services -- CORRECTED

(Senate)

[Live Audio]

COMMENTS: Agenda - Medicaid Presenation Continued Piedmont Behavioral Healthcare

643 LOB
8:30 AM
643 LOB
8:30 AM AND *4:00 PM

Appropriations on Education/Higher Education

(Senate)

*NOTE: Committee will also meet at 4:00 pm or 15 minutes after the last house adjourns (whichever is later)

421 LOB
8:45 AM AND 2:00 PM

Appropriations on Justice and Public Safety

(Senate)




415 LOB
8:45 AM

Appropriations Subcommittee on Transportation

(Joint)




1228/1327
8:45 AM

Appropriations Subcommittee on Natural and Economic Resources

(Joint)




423 LOB
8:45 AM

Appropriations on Natural and Economic Resources -- CORRECTED

(Senate)




423 LOB
9:00 AM

Appropriations Subcommittee on General Government

(Joint)




1425 LB
9:00 AM
Press Room LB
10:00 AM

This meeting will not last over one hour.

North Carolina Health Benefit Exchange Act. (

H115

)

544 LOB
10:00 AM

No Cap on Number of Charter Schools. (

S8

)

643 LOB
10:00 AM

North Carolina Benefit Corporation Act. (

S26

)

1027 LB
10:00 AM

Require Blood Test for All Deaths by Vehicle. (

S16

)

1124 LB
11:00 AM

Agriculture/Environment/Natural Resources

(Senate)

[Live Audio]

Permit Terminal Groins. (

S110

)

544 LOB
12:00 PM
Press Room LB
12:00 NOON

State and Local Government

(Senate)

Lewisville Annexations. (

S80

)

Orange County Local Disclosure Act Repeal. (

S81

)

Town of Atkinson/Charter Amendment. (

S82

)

Downtown Service District Definition. (

S118

)

New Bern Charter Amendments. (

S120

)

Add Supt. to NC Econ. Dev. Bd. (

S124

)

Southern Shores Canal Dredging/Maintenance. (

S145

)

Wake Local Stormwater Utility Fees. (

S155

)

1124 LB
12:00 NOON
643 LOB
1:00 PM
544 LOB
1:00 PM

Exempt Small Ag Processing from Permit Req. (

H162

)

643 LOB
1:00 PM

Rules, Calendar, and Operations of the House

(House)

425 LOB
1:30 PM

Ref: Earned Income Tax Credit

Press Room LB
2:00 PM
643 LOB
3:00 PM

INTRODUCED BILLS

VISITATION RIGHTS.

EXPLORATION/BONDS.

HB 246 [PDF]

Adams, Wainwright and Howard (Primary Sponsors) - MODIFY HOMESTEAD PROPERTY TAX EXCLUSION.




FOR ADOPTION

HR 230 [PDF]

Carney, Hurley, Jeffus and Farmer-Butterfield (Primary Sponsors) - HONOR GIRL SCOUTS. (Pursuant to Rule 32(a) Placed on Calendar for 3/8/11) (1st Edition)




LOCAL BILLS - SECOND AND THIRD READINGS

(Government) (2nd Edition)

(Government) (1st Edition)




PUBLIC BILLS - THIRD READING - NON - ROLL CALL

HB 7 [PDF]

Committee Substitute - Ingle, Cleveland and McCormick (Primary Sponsors) - COMMUNITY COLLEGES/OPT OUT OF FEDERAL LOAN PROGRAM.

(Appropriations) (2nd Edition)

House
3:00 PM

Senate
4:00 PM

Requests for bill drafts for House Bills requested by State Agencies must be in Bill Drafting by 4:00 pm




4:00 PM

Appropriations Subcommittee on General Government

(Joint)




1425 LB
4:00 PM

Appropriations on General Government and Information Technology

(Senate)

Agenda: Budget

1425 LB
4:00 PM

Appropriations Subcommittee on Education

(Joint)




421 LOB
4:00 PM

Jt. Ed/higher Ed

421 LOB