The National Weather service has issued a Red Flag Warning for most of western North Carolina, Upstate South Carolina and Northeast Georgia for today. So, don't burn your trash, debris or garden area off today. Put that off until a better time.
740 AM EST SAT FEB 25 2012

...RED FLAG WARNING IN EFFECT UNTIL 9 PM EST THIS EVENING FOR
WIND AND LOW RELATIVE HUMIDITY FOR YORK COUNTY...

THE NATIONAL WEATHER SERVICE IN GREENVILLE-SPARTANBURG HAS ISSUED
A RED FLAG WARNING FOR WIND AND LOW RELATIVE HUMIDITY...WHICH IS
IN EFFECT UNTIL 9 PM EST THIS EVENING.

* LOCATIONS...WESTERN NORTH CAROLINA, UPSTATE SOUTH CAROLINA AND NORTHEAST GEORGIA.

* TIMING...GUSTS WILL INCREASE WITH MIXING FROM MID MORNING INTO
THE AFTERNOON. RELATIVE HUMIDITIES WILL DROP RAPIDLY BY EARLY
AFTERNOON.

* WINDS...NORTHWEST 15 TO 25 MPH WITH GUSTS UP TO 40 MPH.

* HUMIDITY...AS LOW AS 17 PERCENT.

* FUEL MOISTURE...FUELS ARE MARGINALLY DRY...BUT LOCATIONS THAT
MISSED OUT ON RAINFALL FRIDAY AFTERNOON WILL LIKELY SEE BRUSH
DRY OUT QUICKLY TODAY.

* IMPACTS...FIRE DANGER WILL BE HEIGHTENED AS THE WINDS INCREASE
AND RELATIVE HUMIDITY VALUES FALL TODAY.

PRECAUTIONARY/PREPAREDNESS ACTIONS...

A RED FLAG WARNING MEANS THAT CRITICAL FIRE WEATHER CONDITIONS
ARE EITHER OCCURRING NOW...OR WILL SHORTLY. A COMBINATION OF
STRONG WINDS...LOW RELATIVE HUMIDITY...AND WARM TEMPERATURES WILL
CREATE EXPLOSIVE FIRE GROWTH POTENTIAL.
Source:
National Weather Service
Of course, the NC Forest Service [link] hasn't even bothered to put a special notice of the dangerous conditions on their website and only a couple of their offices are even awake at 8am: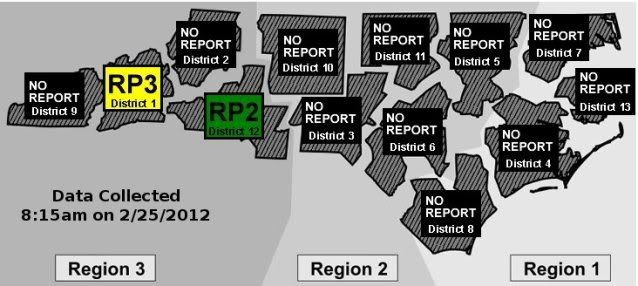 Anyhow, don't go burning today and keep an eye for people who are just stupid enough to be burning today.

**Noon Update**