**9:25am** Mitt has indeed chosen Paul Ryan as his running mate!!!

I give you Romney/Ryan 2012: America's Comeback Team


I salute him on an excellent choice. Now, it is time for us to roll up our sleeves and get to work on getting these two guys elected.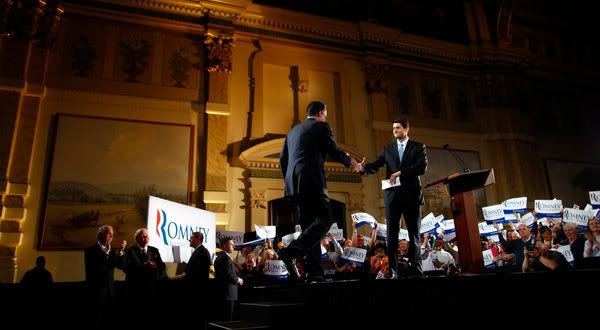 The rumor mill is in full gear tonight, full of speculation and "unnamed sources" giving the nod to Paul Ryan as Mitt Romney's pick for his Vice Presidential running mate.

I hope this is true, because this election is about the economy and Congressman Paul Ryan has the chops as a fiscal conservative and is very well liked among the conservative base of the Republican Party.

The Romney Campaign has announced that the running mate will be revealed at 9 a.m. EDT at the Nauticus Museum. Berthed at the museum is the USS Wisconsin, which should provide a clue that the nod will go to Ryan, a Congressman from the state of Wisconsin...or so the reasoning goes.

Read more at Race 4 2012.
Read more about Paul Ryan on these previous posts: