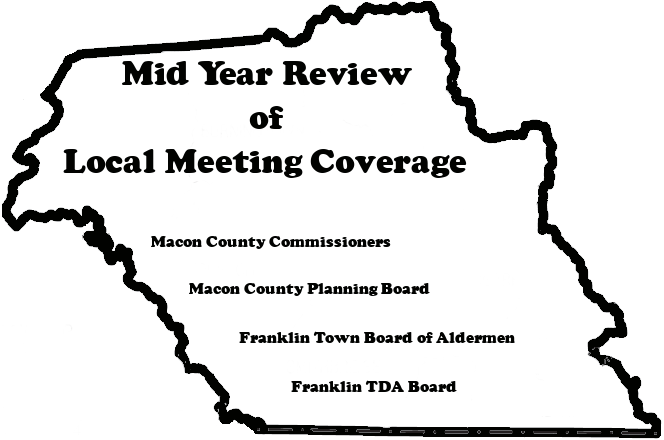 Here is a mid year index of some of the meetings of four of the local governing boards that I've been able to cover this year in my role as a citizen journalist. The boards that I included were, the county commissioners, the planning board, the town aldermen and the TDA. I also cover the meetings of the EDC and will begin covering the county school board meetings when they next meet.
I also deliver a "play by play" of these meetings as they take place. If you wish to see an archive of those, please check out my posts on Google Plus under the #MaconGov hashtag.
As always, I am looking to expand my coverage to more and more boards as I have the time and as advances in technology allow me to process video at a faster pace. One of my goals is to be able to provide gavel to gavel coverage of the meetings of every board in Macon County.
Here is the index of the meetings I have covered so far this year, in reverse chronological order:
Macon County Commissioner Meetings
07-10-2012
06-12-2012
05-31-2012 Budget Work Session III
05-23-2012 Budget Work Session II
05-21-2012 Budget Work Session I
05-15-2012
05-08-2012
04-26-2012 Highlights


04-10-2012

03-13-2012

02-28-2012

02-14-2012

01-14-2012 Mid Year Work Session

01-10-2012



Macon County Planning Board

The Macon County Planning Board has had a turbulent time this year and has not met often, and to add to that, I missed one of the very few meetings they had due to a misunderstanding on my part of when they were supposed to meet. Here is what I have of this year's meetings:

07-19-2012

06-21-2012

04-26-2012 Highlights



Franklin Town Board of Aldermen

Franklin ABC Store Loan Denied by BB&T


07-02-2012

06-07-2012

06-04-2011 Public Hearing on Budget

05-21-2012

Franklin Aldermen React to Article in Smoky Mountain News

05-07-2012

04-02-2012

03-19-2012

02-06-2012



Franklin Tourism Development Authority

07-31-2012 Continuation Meeting

07-24-2012 Special Called Meeting

07-09-2012


Not bad for just one guy, eh?