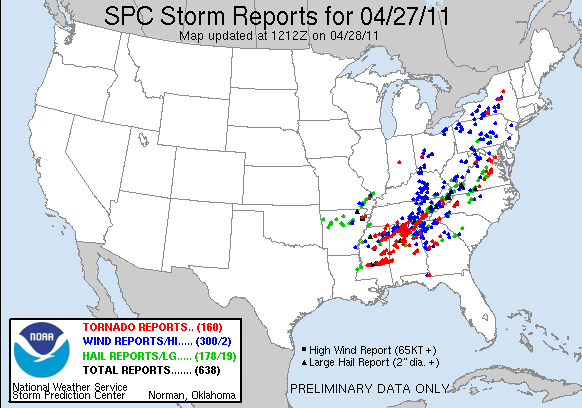 This tornado outbreak began on April 25th and maxed on April 27th, when over 100 tornadoes were reported. Tornadoes are still being spawned by the storm this morning. This has been the deadliest tornado outbreak since 1932, overtaking the Super Outbreak of 1974. For more information, I refer you to the Wikipedia article on this outbreak, which is being continually updated with new information as it comes in.
TUSCALOOSA, Ala. - Deadly tornados ripped apart the South overnight from Texas to Virginia
By 7 a.m. Thursday, 128 people were reported killed in Alabama alone, and the total was 178 people in all. Those devastating numbers are expected to rise.
Rick Reichmuth, a Fox News meteorologist, joined "Good Day" live now from Tuscaloosa, Ala., where parts of the city were just decimated.
He said the mile-wide twister that struck Tuscaloosa was probably an EF-5 tornado. It may have lasted four hours, cutting a 170-mile swath across Alabama and Georgia.
Here are a few videos I have gathered from the Internet, including a replay of most of the coverage from yesterday evening by James Spann:
This video is from the EF4 tornado that went through Tuscaloosa, AL on 4/27/11. It was taken from the University Mall parking lot.
Comments on the ABC 33/40 Live Coverage
I watched James Spann and his team live via the Internet and I must say that they did an excellent job and saved many, many lives yesterday.
Here are links to snippets of their coverage:
Tuscaloosa Tornado Live Coverage
Tornado death toll rises to 128 across state of Alabama
SKY CAM Footage of the Tuscaloosa Tornado
April 27, 2011 Close Range Mississippi Tornado!
Multi Vortex Tornado over Cullman County Alabama
Cullman Tornado I65 and Hwy 278
If you're interested in reliving the coverage, here are a few videos to help you do that:
Part 1
Part 2
Part 3