**9.35am** Here is the audio of the Represenative Tom Murray Press Conference. He discussed HB800, his bill entitled: "Streamlining NC Economic Dev for Job Creation":

Link to Download MP3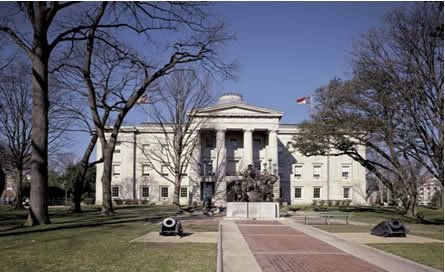 The new session of the North Carolina General Assembly is well underway and here is the schedule for today. Lots of committees are meeting today (despite it being a Thursday when the legislators are trying to get out of town in the early afternoon) as well as sessions of the NC Senate and the NC House. I have included links to bill histories, downloadable PDFs of the current versions of bills and links so that you can listen to the audio feed of these meetings live...provided they are taking place in a room that is wired for audio streaming to the Internet.
If you cannot listen to these meetings live, check back later to see if I have. If I have, I'll post the audio (and a download link) for the meeting in the calendar. You can also follow what is happening in the NC General Assembly by keeping an eye on the hashtag #ncga on Twitter.
If I haven't been able to listen, please check with Voter Radio. You should already be subscribing to their podcasts anyway. I do.
ʘ‿ʘ
3:00 PM OR 15 MIN. AFTER SESSI




643 LOB
8:30 AM

Appropriations Subcommittee on Justice and Public Safety -- CANCELLED

(House)

JPS Committee meting has been cancelled for 8:30 am

415 LOB
8:30 AM

Appropriations Subcommittee on Natural and Economic Resources -- CANCELLED

(House)




423 LOB
8:30 AM

Appropriations on Natural and Economic Resources -- CANCELLED

(Senate)




423 LOB
8:30 AM
544 LOB
8:30 AM

Appropriations Subcommittee on Health and Human Services -- CANCELLED

(House)




643 LOB
8:30 AM

Joint Appropriations Subcommittees on Justice and Public Safety




415 LOB
8:30 AM

Appropriations Subcommittee on Health and Human Services

(Joint)

[Live Audio]




643 LOB
8:30 AM

Joint Appropriations Subcommittees on Health and Human Services -- CANCELLED

Agenda: Budget Discussion

643 LOB
9:00 AM
Press Room LB
9:30 AM

Rules and Operations of the Senate

(Senate)

Modify NCGA Police Powers. (

H316

)

1027 LB
10:00 AM
1124 LB
10:00 AM

This meeting will be discussion only

Permit Terminal Groins. (

S110

)

544 LOB
10:00 AM

Incorporate Lake James. (

H256

)

Wake Municipalities Energy Efficiency. (

H266

)

Wayne County Design Build. (

H284

)

Belhaven Recall Elections. (

H291

)

Buncombe Involuntary Annexation Moratorium. (

H326

)

Incorporate Leicester. (

H327

)

Cleveland County Water Advisory Referendum. (

H398

)

Pinebluff/Preserve Land for Parks. (

H410

)

Winston-Salem Deannexation. (

H418

)

Wake County School Board Chair Voting. (

H498

)

Modify Mecklenburg County Local Taxes. (

H508

)

Modify Internal Auditing Statutes. (

H393

)

Wilson School Board. (

S83

)

Greenville/Email Subscription Lists. (

S182

)

Atlantic Beach/Beaufort/Parking. (

S288

)

ETJ/Wake Municipal Farm Exemption. (

H279

)

ETJ/Wake Municipal Farm Exemption. (

S263

)

643 LOB
10:00 AM
1027 LB
11:00 AM

House Select Committee on Tort Reform

(House)

Tort Reform for Citizens and Businesses. (

H542

)

1327 LB
11:00 AM

House Select Committee on Tort Reform -- CORRECTED

(House)

1327 LB
11:00 AM
Senate
12:00 PM
Press Room LB
12:00 NOON

Homeland Security, Military, and Veterans Affairs

(House)

1425 LB
1:00 PM
Press Room LB
1:15 PM
House