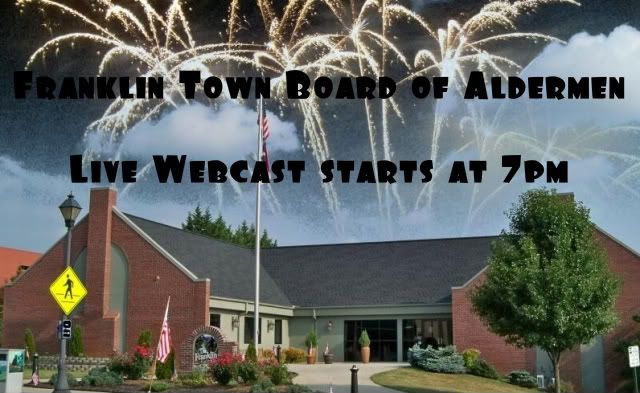 It's that time of month again...and I plan on being in the Town Hall, providing live coverage via Twitter and video.
I will be tweeting the meeting under the hashtag #MaconGov under my @wpig account. Here is a widget that you can use to follow along...
Here is the agenda for tonights meeting:
Town of Franklin Board of Aldermen
Agenda
Monday April 4, 2011 - 7:00 p.m.
Call to order -Mayor Collins

Approval of the March 7, 2011 minutes.

Presentation of memorial to the family of Jerry Evans

Public session

Proclamation to "Paint the Town Purple" Relay for Life- Anna Taylor

Street closing requests:

The closing of Iotla Street for the Airing of the Quilts- Linda Schlott

The closing of Phillips, Iotla, and Main Street for Folk Festival- Teresa Ramsey

The closing of Iotla Street from 3:30 to 9:00 p.m. for "Paint the Town Purple"- Anna Taylor

Flood insurance program- Mike Grubermann & John Henning Jr.

Minimum housing code- John Henning Jr.

Budget Amendments- Janet Anderson

Re-appointment of Dorothy Crawford to represent the Town on the N.C. State Affordable Housing committee- Sam Greenwood

Appointment of Summer Woodard to replace Mike Decker on the Macon County Transit committee- Sam Greenwood

Consideration of award for sidewalk bid- Mike Grubermann

Tax Refund Request- John Henning Jr.

Discussion of Indian Mound: grass cutting and ground cover- Sam Greenwood

Adjourn