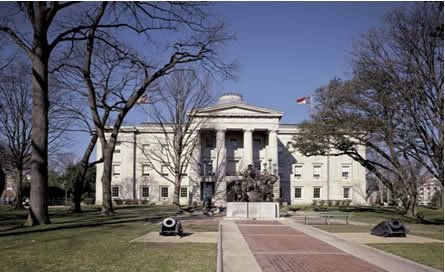 The new session of the North Carolina General Assembly is well underway and here is the schedule for today. There are several committees meeting today, as well as press conferences by the Republican Leadership at 9am and the Democrat Leadership at noon, and the sessions of the NC Senate and the NC House will begin at 7pm tonight. I have included links to bill histories, downloadable PDFs of the current versions of bills and links so that you can listen to the audio feed of these meetings live...provided they are taking place in a room that is wired for audio streaming to the Internet.
If you cannot listen to these meetings live, check back later to see if I have. If I have, I'll post the audio (and a download link) for the meeting in the calendar. You can also follow what is happening in the NC General Assembly by keeping an eye on the hashtag #ncga on Twitter.
If I haven't been able to listen, please check with Voter Radio. You should already be subscribing to their podcasts anyway. I do.
ʘ‿ʘ
15 MIN AFTER SESSION

Appropriations Subcommittee on General Government

(House)




1425 LB
15 MINUTES AFTER SESSION ENDS

Economic Disclosures for Sanitary Districts. (

H436

)

1228 LB
4:00 PM OR 15 MINUTES AFTER SE

Appropriations Subcommittee on Education

(House)




421 LOB
8:30 AM

Appropriations Subcommittee on Transportation

(House)




1327 LB
8:30 AM

Appropriations Subcommittee on Justice and Public Safety

(House)




415 LOB
8:30 AM

Appropriations Subcommittee on Education

(House)




421 LOB
8:30 AM

Appropriations Subcommittee on Natural and Economic Resources

(House)




424 LOB
8:30 AM
544 LOB
9:00 AM
643 LOB
9:30 AM
Press Room LB
10:00 AM

Insurance -- CORRECTED

(Senate)

1027 LB
10:00 AM

Judiciary Subcommittee A -- CORRECTED

(House)

1327 LB
10:00 AM

Judiciary Subcommittee C

(House)

415 LOB
10:00 AM

Judiciary Subcommittee C

(House)

Allow Wage Garnishment to Satisfy Judgments. (

H30

)

Amend Engineers and Surveyors Laws. (

H616

)

Adoption Law Changes. (

H637

)

Alimony/Postseparation Support Changes. (

H706

)

Child Support Order Stayed By Appeal. (

H802

)

Allow Court to Assess Atty Fees/50C Orders. (

H803

)

Expand Access/Death Certificate/Adult Adoptee. (

H846

)

415 LOB
10:00 AM

Judiciary Subcommittee C -- CORRECTED

(House)

SB 406 is added

Allow Wage Garnishment to Satisfy Judgments. (

H30

)

Amend Engineers and Surveyors Laws. (

H616

)

Adoption Law Changes. (

H637

)

Alimony/Postseparation Support Changes. (

H706

)

Child Support Order Stayed By Appeal. (

H802

)

Allow Court to Assess Atty Fees/50C Orders. (

H803

)

Repeal Crossbow Purchase Permit Requirement. (

S406

)

415 LOB
10:00 AM

Judiciary Subcommittee B

(House)

421 LOB
10:00 AM

Commerce and Job Development Subcommittee on Alcoholic Beverage Control

(House)

Presentations Justin Furr, Executive Director, NC Wine and Grape Council Wendy Kelly, The Policy Group Wineries and Their Economic Impact in North Carolina

Breweries to Sell Malt Beverages on Premises. (

H98

)

425 LOB
10:00 AM
544 LOB
10:00 AM
Press Room LB
11:00 AM
544 LOB
11:00 AM

Ref: HIV Aids Advocacy Day

Press Room LB
12:00 PM
Press Room LB
12:00 NOON
544 LOB
12:00 NOON
544 LOB
12:00 NOON
544 LOB
12:00 NOON

Public Utilities -- CORRECTED

(House)

[Live Audio]

643 LOB
1:00 PM
643 LOB
1:00 PM
544 LOB
15 MINUTES AFTER SESSION

Rules, Calendar, and Operations of the House--CORRECTED

(House)

1327 LB
2:00 PM

FOR ADOPTION

HR 748

Folwell, Justice, Wainwright and Wray (Primary Sponsors) - ORGAN DONATION

MONTH. (Rules, Calendar, and Operations of the House) (1st Edition)




PUBLIC FOR CONCURRENCE

HB 162

Senate Committee Substitute - Langdon, Dixon, McCormick and Spear

(Primary Sponsors) - EXEMPT SMALL AGRICULTURAL PROCESSING FROM

PERMIT REQUIREMENTS. (Senate Committee Substitute) (2nd Edition)




LOCAL BILLS - THIRD READING - NON - ROLL CALL

HB 498

Committee Substitute - Dollar - WAKE SCHOOL BOARD PRESIDING OFFICER

VOTING. (Government) (2nd Edition)




SECOND AND THIRD READINGS

HB 284

Committee Substitute - Sager and LaRoque (Primary Sponsors) - WAYNE

COUNTY DESIGN BUILD. (Government) (2nd Edition)

HB 291

Committee Substitute - Cook - BELHAVEN RECALL ELECTIONS.

(Government) (2nd Edition)




PUBLIC BILLS - THIRD READING - NON - ROLL CALL

HB 168

Committee Substitute - Sanderson, Cleveland and Hill (Primary Sponsors) -

FARMS EXEMPT FROM CITY ANNEXATION/EXTRATERRITORIAL

JURISDICTION/ZONING. (Finance) (2nd Edition)

HB 427

Committee Substitute - Faircloth, Folwell, H. Warren and Shepard

(Primary Sponsors) - RUN AND YOU'RE DONE.

(Judiciary Subcommittee B) (2nd Edition)

SB 182

House Committee Substitute - Jenkins and Pate (Primary Sponsors) - STATEWIDE EMAIL SUBSCRIPTION LISTS. (Amendment No. 1 Adopted - 4/11/11)

(Government) (2nd Edition)




SECOND AND THIRD READINGS

HB 335

Guice, Horn, Burr and Daughtry (Primary Sponsors) - MAINTENANCE OF

PRISONS. (Government) (1st Edition)

HB 595

Barnhart and Burr (Primary Sponsors) - REORGANIZATION/

LEGISLATIVE OVERSIGHT COMMISSIONS.

(Rules, Calendar, and Operations of the House) (1st Edition)

HB 614

Committee Substitute - Murry, Dollar and Brisson (Primary Sponsors) - DIVISION

OF MEDICAL ASSISTANCE POST PUBLIC NOTICES OF CHANGE ON

WEBSITE. (Health and Human Services) (2nd Edition)

HJR 647

Committee on Health and Human Services - DIABETES TASK FORCE.

(Health and Human Services) (2nd Edition)

House
2:00 PM

3/9 Judiciary I 4/12 Unfav bill; Judiciary I Com Sub Adopted; (Chgs title)

4/12 W/D Cal; Cal 4/13

4/12 W/D Cal, Cal 4/13

4/7 W/D Cal; Cal 4/11 4/11 W/D Cal; Cal 4/13

4/7 Unfav House Com Sub; Sen Rules Com Sub Adopted

4/11 W/D Cal; Cal 4/13

Sub No. 2 1/31 Ed/Higher Ed. 2/16 Unfav bill; Ed/Higher Ed. Com Sub Adopted (Chgs title)

2/17 W/D Cal; rerefer Finance 2/22 Fav, as amended; Comm Amd No. 1 Adopted, Engrossed

2/23 Stevens Amd No. 2 Adopted; McKissick Amd No. 5 Adopted; Passed 2nd Rdg

2/24 Passed 3rd Rdg; Engrossed; To House 4/12 Rec'd for concurrence in House Com Sub No. 2; (Chgs title); Cal 4/13

2/3 Judiciary I 3/3 Unfav bill; Judiciary I Com Sub Adopted (Chgs title)

CLARIFY PENALTY UNAUTH. PRACTICE OF MEDICINE.

3/7 Passed 2nd & 3rd Rdgs; To House 4/12 Rec'd for concurrence in House Amd No. 1; Cal 4/13

Senate
3:00 PM
3:00 PM