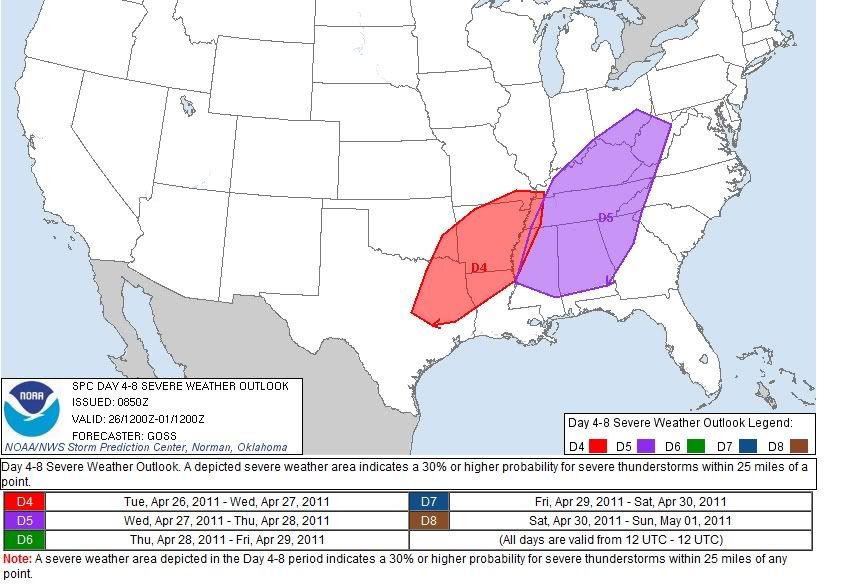 Uh-oh. It looks like the Appalachian Mountains, including us in the Carolinas are in for some severe weather in the later half of next week...in the Wednesday to Thursday time frame. I am posting this so you can have time to prepare and review your family plans for severe thunderstorms and tornadoes.
Immediately below
is a forecast discussion of the above map.
At the end of this post
are some links to handy resources that will help you prepare for what to do before, during and after severe weather...
Here is the National Landing Page of the National weather Service. You can find out up to date information on weather in your area by clicking the location on the map that corresponds to where you are. The map indicates at a glance weather conditions across the USA.
I am partial to the guys and gals at the GSP Weather Forecast Office. In my opinion, they are among the very best in the National Weather Service. They cover Upstate South Carolina, Western North Carolina and Northeast Georgia.
---
NOAA SPCForecast Discussion
ZCZC SPCSWOD48 ALL
ACUS48 KWNS 230850
SPC AC 230850
DAY 4-8 CONVECTIVE OUTLOOK
NWS STORM PREDICTION CENTER NORMAN OK
0350 AM CDT SAT APR 23 2011
VALID 261200Z - 011200Z
...DISCUSSION...
SUBSTANTIAL SEVERE WEATHER POTENTIAL IS EXPECTED TO SHIFT SLOWLY EWD
ACROSS THE ERN U.S. DAYS 4-6 /TUE. 4-26 THROUGH THU. 4-28/...AS A
LARGE UPPER TROUGH PROGRESSES FROM THE CENTRAL U.S. DAY 4 ACROSS THE
MS VALLEY DAY 5...AND THEN ON EWD THROUGH DAYS 6/7. MODEL
DIFFERENCES WITH RESPECT TO TIMING OF THIS FEATURE BEGIN TO EMERGE
DAY 5...BUT BECOME INCREASINGLY PRONOUNCED THROUGH DAYS 6 AND 7 AS
THE TROUGH APPROACHES THE E COAST STATES/ERN ATLANTIC.
THE PRIMARY SEVERE THREAT DAY 4 IS PROGGED FROM E TX NEWD ACROSS THE
ARKLATEX INTO THE MID MS VALLEY...AS A SHORT-WAVE TROUGH DIGS ESEWD
INTO THIS REGION...WITHIN THE LARGER-SCALE TROUGH. UNSTABLE AIRMASS
COMBINED WITH THE ENERGETIC SHORT-WAVE FEATURE AND ASSOCIATED/STRONG
FLOW FIELD SUGGESTS WIDESPREAD SEVERE WEATHER POTENTIAL -- INCLUDING
RISKS FOR LARGE HAIL...DAMAGING WINDS...AND ISOLATED TORNADOES.
THE THREAT SHOULD SHIFT E OF THE MS VALLEY INTO THE MID
SOUTH/SOUTHEAST DAY 5...AS THE SHORT-WAVE FEATURE TAKES ON A NEUTRAL
TO EVEN NEGATIVE TILT AS IT CROSSES THIS REGION. AGAIN -- AMPLY
UNSTABLE AIRMASS COMBINED WITH THE STRENGTH OF THE UPPER SYSTEM AND
ASSOCIATED FLOW FIELD SUGGESTS WIDESPREAD SEVERE WEATHER CAN BE
EXPECTED...INCLUDING THE POTENTIAL FOR TORNADOES.
AS MODELS BEGIN DIVERGING SOMEWHAT WITH RESPECT TO TIMING AND
SMALLER-SCALE DETAILS...DEGREE OF THREAT SHIFTING ACROSS THE
APPALACHIANS LATE DAY 5 AND INTO DAY 6 BECOMES LESS CERTAIN. WHILE
SEVERE WEATHER WILL BE LIKELY WITH THE FRONT EXPECTED TO REACH THE
ATLANTIC COAST BY THE END OF THE PERIOD...WILL REFRAIN FROM
HIGHLIGHTING A THREAT AREA THIS FORECAST.
WITH THE FRONT LIKELY OFFSHORE BY THE START OF DAY 7... SEVERE
WEATHER POTENTIAL ACROSS THE U.S. APPEARS LESS
WIDESPREAD/SIGNIFICANT AND MUCH MORE UNCERTAIN THROUGH THE END OF
THE PERIOD.
..GOSS.. 04/23/2011
---
Here is some general information on severe weather to assist you in becoming prepared...
Severe Thunderstorms, Tornadoes and Hail
---
NWR broadcasts National Weather Service (NWS) warnings, watches, forecasts and other non-weather related hazard information 24 hours a day. During an emergency, NWS forecasters interrupt routine broadcasts and send a special tone activating local weather radios. Weather radios equipped with a special alarm tone feature sound an alert to give you immediate information about a life-threatening situation.
NWR broadcasts warnings and post-event information for all types of hazards: weather (e.g., tornadoes, floods), natural (e.g., earthquakes, forest fires and volcanic activity), technological (e.g., chemical releases, oil spills, nuclear power plant emergencies, etc.), and national emergencies (e.g., terrorist attacks). Working with other Federal agencies and the Federal Communications Commission's (FCC) Emergency Alert System (EAS), NWR is an all-hazards radio network, making it the most comprehensive weather and emergency information available to the public.
Life-threatening weather emergency messages are alerted on NWR. Many of those same weather-related emergency messages are also broadcast via the EAS.
North Carolina Station Table
Weather Forcast Office (WFO)
| | | | | | |
| --- | --- | --- | --- | --- | --- |
| New Bern | Glenburnie Garden | | 162.400 | 1000 | Newport, NC |
| Winnabow | Winnabow | | 162.550 | 1000 | Wilmington, NC |
| Cape Hatteras | Middletown | | 162.475 | 1000 | Newport, NC |
| Mooresville | South Iredell County | | 162.525 | 1000 | Greer, SC |
| Warsaw | Duplin County | | 162.425 | 300 | Newport, NC |
| Windsor | Windsor | | 162.525 | 300 | Wakefield, VA |
| Linville | Grandmother Mtn. | | 162.450 | 300 | Greer, SC |
| Henderson | Macon | | 162.500 | 300 | Raleigh, NC |
| Mount Jefferson | Ashe County | | 162.500 | 300 | Blacksburg, VA |
| Ellerbe | Richmond County | | 162.400 | 300 | Raleigh, NC |
| Garner | Garner | | 162.450 | 300 | Raleigh, NC |
| Buck Mountain | Badin | | 162.500 | 1000 | Raleigh, NC |
| Margarettsville | Margarettsville | | 162.450 | 300 | Wakefield, VA |
| Robbinsville | Teyahalee Bald Mtn. | | 162.525 | 300 | Greer, SC |
| Mamie | Mamie | | 162.425 | 300 | Newport, NC |
| Winston-Salem | Sauratown Mtn. | | 162.400 | 1000 | Raleigh, NC |
| Saint Pauls | Saint Pauls | | 162.475 | 1000 | Wilmington, NC |
| Asheville | Mt. Pisgah | | 162.400 | 300 | Greer, SC |
| Chapel Hill | Durham | | 162.550 | 1000 | Raleigh, NC |
| Rocky Mount | Tarboro | | 162.475 | 1000 | Raleigh, NC |
| Charlotte | Spencer Mtn. | | 162.475 | 1000 | Greer, SC |