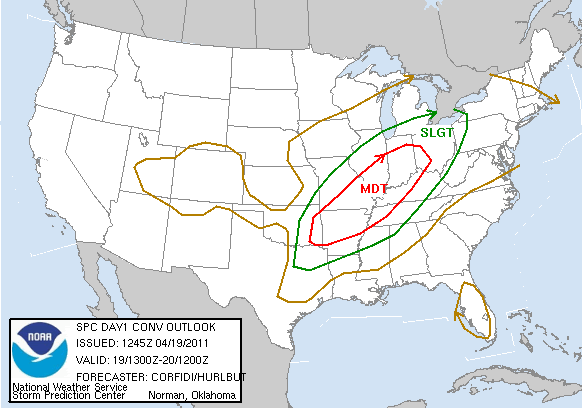 The Storm Prediction Center in Norman, OK has started an experimental product where they issue a video briefing in the mornings of days with a Moderate or High risk of severe weather. I have taken the liberty of uploading the videos to You Tube and have encouraged the SPC to do the same thing...
Check out what Matthew East has to say about the weather. We are fortunate to have someone in our area that takes the time to put out a short weather briefing video on the Internet.
Please visit the Storm Prediction Center for up to date information on their products, which...as tax-payer funded projects, are available in the public domain.
Here is the text of today's Public Weather Outlook, followed by the SPC Convective Outlook...
PUBLIC SEVERE WEATHER OUTLOOK
NWS STORM PREDICTION CENTER NORMAN OK
0437 AM CDT TUE APR 19 2011
...SEVERE THUNDERSTORMS EXPECTED OVER PARTS OF THE OZARKS...THE
LOWER AND MIDDLE MISSISSIPPI VALLEYS...AND THE LOWER OHIO VALLEY
LATER TODAY THROUGH TONIGHT...
THE NWS STORM PREDICTION CENTER IN NORMAN OK IS FORECASTING THE
DEVELOPMENT OF TORNADOES...DAMAGING WINDS...AND LARGE HAIL FROM THE
OZARKS INTO PARTS OF MISSISSIPPI AND LOWER OHIO VALLEYS LATER TODAY
THROUGH TONIGHT.
THE AREAS MOST LIKELY TO EXPERIENCE THIS ACTIVITY INCLUDE
NORTHERN AND WESTERN ARKANSAS
CENTRAL AND SOUTHERN ILLINOIS
CENTRAL AND SOUTHERN INDIANA
WESTERN AND NORTHERN KENTUCKY
SOUTHERN AND EASTERN MISSOURI
WESTERN OHIO
EASTERN OKLAHOMA
NORTHWEST TENNESSEE
ELSEWHERE...SURROUNDING THE AREA OF GREATEST RISK...SEVERE STORMS
ALSO MAY OCCUR FROM EASTERN PORTIONS OF THE SOUTHERN PLAINS
NORTHEASTWARD INTO THE LOWER GREAT LAKES
A POTENT JET STREAM DISTURBANCE NOW OVER THE SOUTHERN ROCKIES WILL
CONTINUE EAST ACROSS THE SOUTHERN PLAINS TODAY...BEFORE TURNING
NORTHEAST ACROSS THE MID MISSISSIPPI AND LOWER OHIO VALLEYS TONIGHT
AND EARLY WEDNESDAY. AT THE SAME TIME...AN ATTENDANT SURFACE LOW
AND COLD FRONT WILL TRACK FROM SOUTHEAST KANSAS THIS MORNING TO
NORTHERN OHIO BY DAWN WEDNESDAY.
AHEAD OF THE LOW...A BROAD CURRENT OF WARM...SOUTHERLY FLOW ALREADY
IN PLACE OVER THE SOUTH CENTRAL STATES WILL STRENGTHEN AND SPREAD
MOISTURE EAST-NORTHEAST ACROSS THE OHIO VALLEY...BENEATH FAST
SOUTHWESTERLY JET STREAM WINDS.
AS THE JET STREAM IMPULSE AND SURFACE LOW CONTINUE EASTWARD...AND AS
DAYTIME HEATING FURTHER DESTABILIZES THE REGION...POWERFUL
THUNDERSTORMS APPEAR LIKELY THIS AFTERNOON AND EVENING ALONG AND
AHEAD OF THE COLD FRONT...AND AHEAD OF THE SURFACE LOW.
CONDITIONS INITIALLY WILL BE FAVORABLE FOR INDIVIDUAL SUPERCELL
STORMS WITH TORNADOES...LARGE HAIL...AND DAMAGING WINDS. WITH
TIME...HOWEVER...THE STORMS SHOULD MERGE INTO EXTENSIVE BAND OR INTO
SEVERAL LARGE CLUSTERS. THESE COULD PRODUCE MORE WIDESPREAD WIND
DAMAGE...IN ADDITION TO A CONTINUING RISK FOR ISOLATED TORNADOES AND
HAIL...THROUGH EARLY WEDNESDAY.
STATE AND LOCAL EMERGENCY MANAGERS ARE MONITORING THIS DEVELOPING
SITUATION. THOSE IN THE THREATENED AREA ARE URGED TO REVIEW SEVERE
WEATHER SAFETY RULES AND TO LISTEN TO RADIO...TELEVISION...AND NOAA
WEATHER RADIO FOR POSSIBLE WATCHES...WARNINGS...AND STATEMENTS LATER
TODAY.
..CORFIDI.. 04/19/2011
SPC AC 191245
DAY 1 CONVECTIVE OUTLOOK
NWS STORM PREDICTION CENTER NORMAN OK
0745 AM CDT TUE APR 19 2011
VALID 191300Z - 201200Z
...THERE IS A MDT RISK OF SVR TSTMS FROM ERN OK AND THE OZARKS
NORTHEAST INTO THE OH VLY...
...THERE IS A SLGT RISK OF SVR TSTMS SURROUNDING THE MDT RISK AREA
FROM NE TX TO THE LWR GRT LKS...
...SYNOPSIS...
POTENT SHORTWAVE TROUGH NOW OVER THE SRN RCKYS WILL MOVE E ACROSS
THE CNTRL/SRN PLNS TODAY...BEFORE TURNING ENE ACROSS THE MID MS AND
OH VLYS TONIGHT/EARLY WED. ATTENDANT SFC LOW NOW OVER SE KS SHOULD
TRACK ENE TO NEAR KSTL THIS EVE...AND TO LK ERIE BY 12Z WED AS
TRAILING COLD FRONT MOVES STEADILY S ACROSS THE PLNS...AND E/SE
ACROSS THE OZARKS AND MS VLY. THE COLD FRONT...AND TO A SOMEWHAT
LESSER EXTENT...THE WARM/QSTNRY FRONT EXTENDING E FROM THE
LOW...WILL SERVE TO FOCUS SVR STORM DEVELOPMENT...MAINLY LATE TODAY
THROUGH EARLY WED.
...ERN PORTIONS OF THE SRN PLNS AND THE OZARKS NORTHEAST INTO THE OH
VLY AND LWR GRT LKS...
SIGNIFICANT SEVERE WEATHER POSSIBLE THIS FORECAST
PERIOD...WITH WIDESPREAD DMGG WIND...LARGE HAIL...AND A FEW
POTENTIALLY STRONG TORNADOES.
CLUSTERS/BANDS OF ELEVATED TSTMS LIKELY WILL PERSIST THROUGH MUCH OF
THE DAY ALONG AND N OF WARM/QSTNRY FRONT OVER THE MID MS/OH VLYS.
FORMING ALONG NERN FRINGE OF EWD-EXPANDING EML...THIS ACTIVITY WILL
POSE A THREAT FOR LARGE HAIL...ESPECIALLY IN ASSOCIATION WITH
YOUNGER AND/OR MORE DISCRETE UPDRAFTS. SOME...ALBEIT
LOW...POTENTIAL WILL EXIST FOR SFC OR NEAR-SFC-BASED STORMS ALONG
THE SRN FRINGE OF THESE ELEVATED CLUSTERS OVER PARTS OF
IL...IND...KY...AND PERHAPS SW OH. IN THOSE AREAS A THREAT FOR
LOCALLY DMGG WIND AND ISOLATED TORNADOES WILL EXIST...IN ADDITION TO
LARGE HAIL.
LATE THIS AFTERNOON AND THIS EVE...ASCENT WITH APPROACHING UPR
TROUGH AND SFC HEATING EXPECTED TO OVERCOME CAP PRODUCE RAPID AND
PERHAPS NEARLY SIMULTANEOUS STORM DEVELOPMENT ALONG AND IMMEDIATELY
AHEAD OF COLD FRONT AND SFC LOW FROM ERN MO/IL SW INTO ERN OK/NE TX.
THE FIRST STORMS...ESPECIALLY OVER OK AND VICINITY...LIKELY WILL BE
SUPERCELLULAR GIVEN FAVORABLY STRONG/VEERING WIND FIELD WITH HEIGHT.
THESE COULD YIELD A COUPLE TORNADOES...IN ADDITION TO VERY LARGE
HAIL AND LOCALLY DMGG WIND. HOWEVER...UPSCALE GROWTH INTO A MORE
LINEAR STORM MODE SHOULD OCCUR BY EARLY EVE AS FRONTAL UPLIFT
FOCUSES DEVELOPMENT AND CAPPING LIMITS STORM INITIATION IN THE
PRE-FRONTAL WARM SECTOR. DRIER/MORE CAPPED ENVIRONMENT...VEERING
LOW-LVL FLOW...AND WEAKER FORCING FOR ASCENT SHOULD LIMIT DEGREE OF
SWWD DEVELOPMENT INTO TX.
FARTHER NE...A SOMEWHAT GREATER TORNADO POTENTIAL MAY EVOLVE ALONG
WARM FRONT FROM ERN MO INTO IL/IND...WHERE LOW-LVL SHEAR SHOULD BE
MAXIMIZED AHEAD OF SFC LOW. HOWEVER...CINH AND FORCING
CONSIDERATIONS SUGGEST THAT THIS ACTIVITY ALSO WILL EVOLVE INTO A
QLCS...WITH AN INCREASING POTENTIAL FOR MORE WIDESPREAD DMGG
WIND/POSSIBLE DERECHO CONDITIONS ACROSS PARTS OF IL/IND/KY/TN
TONIGHT. THIS THREAT LIKELY WILL CONTINUE WELL INTO WED MORNING AS
BAND OF 60+ KT SWLY LLJ SWEEPS NEWD IN TANDEM WITH CONVECTIVE SYSTEM
ACROSS LWR TN AND OH RVR VLYS. THOUGH SOME WEAKENING IN STORM
INTENSITY MAY OCCUR EARLY WED...STRENGTH OF WIND FIELD AND DEGREE OF
MOISTURE AVAILABILITY /PW OF 1.25 - 1.50 INCHES/ SUGGEST THAT AT
LEAST A LIMITED SVR THREAT WILL PERSIST AS FAR E AS THE WRN SLOPES
OF THE APPALACHIANS.
..CORFIDI/HURLBUT.. 04/19/2011