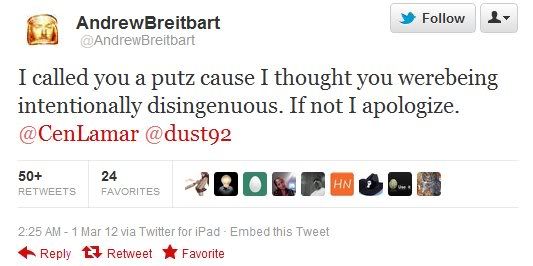 Last Tweet
Andrew Breitbart has passed away from natural causes.
I waited a bit before posting this because I thought it was a joke he was playing on us. Apparently, it's for real.
As a tribute, I've embedded a screenshot of his last tweet.
I was not a fan of his "in your face" style of citizen journalism or his deceptive practices in obtaining a story, but was glad that he was at least on our side in the battle against socialism.
**update**
Breitbart was walking near his home in Brentwood, Calif just after midnight Thursday when he collapsed according to his father-in-law Orson Bean. Someone saw Breitbart fall and called 911. Emergency crews tried to revive him and rushed him to the emergency room at UCLA Medical Center, Bean said.

He is survived by his wife Susannah Bean Breitbart, 41, and four children.
**update #2**
Matt Drudge has posted a tribute to the death of his friend. [
see a screenshot
]