Fox Carolina
WSPA
The "local" TV Station, WLOS has video, but it is not embeddable, so I won't link to it. The same with WYFF.
**update**

Macon County News has an article and a video interview with Neil Hoppe, the manager of the Macon County Airport. [link]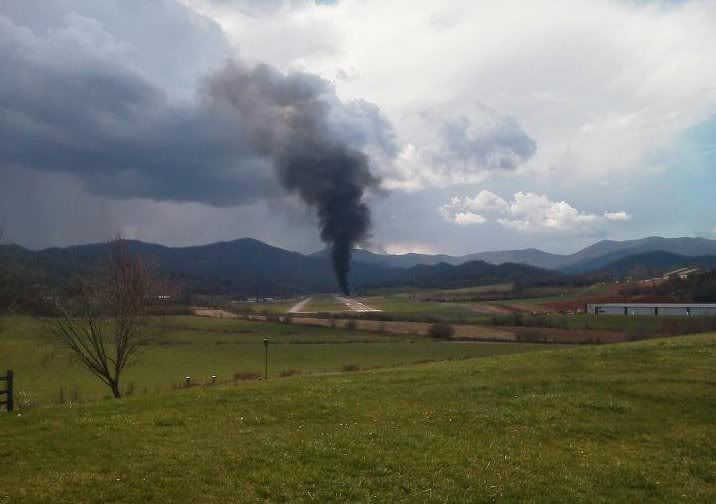 I was monitoring my scanner yesterday afternoon and noted a radio communication at about 1:45pm on 123.050 Mhz, the frequency used by the Macon County Airport. The communication was brief, most of it unintelligible by me due to the accent of the pilot. The only words I could make out were "runway two five" and I tweeted about the radio traffic on my Twitter Account I use for reporting what I monitor on the airwaves.




A couple of minutes or so after I tweeted, the Macon County Emergency Operations Center (EOC) dispatched the Franklin Fire Department to a report of a plane crash at the Macon County Airport. I immediately pulled up an online scanner feed for Macon County that is run by a friend and started recording. I've posted the entire chain of my tweets in reverse chronological order at the end of this post.





Here is a recording of the public safety radio traffic with all the long pauses and other non-related radio traffic edited out of the first 15 minutes after the plane crash:


I also updated a Facebook Page I maintain with details of what I learned during the course of the event. [link]
According to information I gleaned from Facebook (by far and away the best source of quick information during this event due to the large number of locals using the social media platform) there were two couple and a small female child aboard the plane. My heart goes out to the families who lost loved ones and to the responders who had to sift through the wreckage to discover the remains of those killed in the crash.
Here is the flight altitude and speed profile of the last flight of N7700T as recorded by Flight Aware, an online flight tracker:

Here is what other media outlets reported about the crash:

WLOS-TV
Authorities now say five bodies were recovered from the wreckage of the plane crash in Macon Co. The plane was registered to a Bogdan Jakubowski of Venice, Florida. But the identities of those killed have not yet been released.
According to the Macon Co. 911 coordinator, the plane was attempting to land around 1:45pm, but appeared to approach at too steep an angle. The pilot tried to correct, but one of the wings dipped causing the plane to flip and explode.

Fire News also reported on the crash, but erroneously reported that Burningtown VFD was the lead agency.

ABC News (via the AP) also reported on the crash.




Initial Twitter Coverage of Events