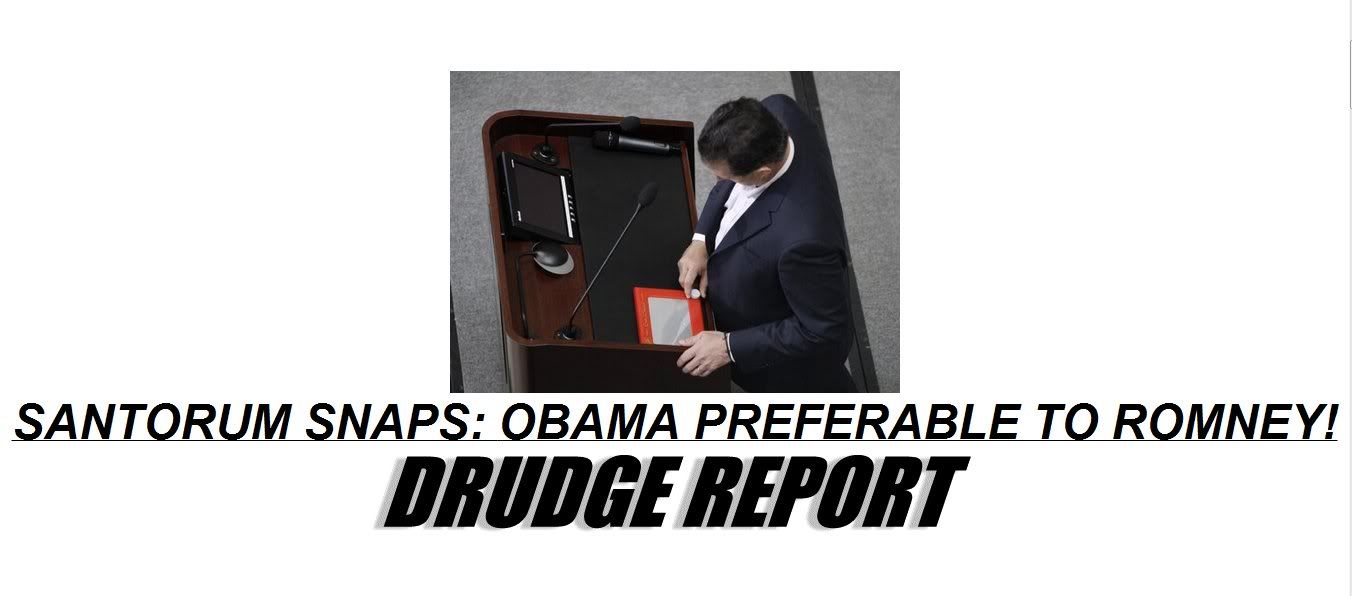 The latest brouhaha in this excrutiatingly long and drawn out 2012 Republican Primary (thanks for nothing, RNC dimwits) implies that Rick Santorum would prefer President Obama to President Romney. I think his words have been taken out of context. Mind you, I am saying this as a supporter of Mitt Romney. First, as is my custom, I present the full speech so that you may gain an understanding of the context of how and when the words were said, so that you don't have to rely on soundbites created for political spin and to generate page views by irresponsible journalists and political pundits:

Rick Santorum Addresses The USAA in San Antonio, Texas



Rick Santorum Press Availability




The full extent of Rick Santorum's remark is as follows:


What I've said in this campaign is that if you look at the record on a lot of issues, I've taken a consistent approach throughout the course of my career. I believe in these fundamental freedom and the way we solve problems in America. And there are many on the Republican side of aisle who don't…
That's the sort of the approach. That's the differentiation, if you will, between me going up against Barack Obama, where there really are real contrasts on the issues, as opposed to a lot of these candidates where it's a race between Tweedle Dum and Tweedle Dee. That's not how you win.
In the last century, there's one person, one Republican candidate, who defeated a Democratic Incumbent for re-election. One in the last century. And that was Ronald Reagan. Almost every other time we ran a moderate because we had to win. Republicans and Conservatives were so worried about getting control back that we have to win so we have to nominate someone who can appeal to-
No, you win by giving people a choice. You win by giving the people an opportunity to see a different vision for our country not someone who's just going to be a little different from the person we have in there. If they're going to be just a little different, we might as well stay with what we have instead of taking a risk on what may be the Etch-a-sketch candidate of the future."
Source: USAA Speech in San Antonio, Texas, transcribed from the first video in this blogpost.

He was answering a question during the Q&A Session that followed his speech to the USAA in San Antonio, Texas yesterday. No one at the event seems to have objected to the words in their original context. Someone decided to make a mountain out of a molehill.

For an example of the spin and yellow journalism as "journalists" sought to generate controversy where there is none, check out this article from CBS News:


Presidential candidate Rick Santorum on Thursday said Republicans should give President Barack Obama another term if Santorum isn't the GOP nominee and for a second day compared rival Mitt Romney to an Etch A Sketch toy.

Santorum reiterated an argument he has made before: The former Massachusetts governor is not conservative enough to offer voters a clear choice in the fall election and that only he can provide that contrast.

"You win by giving people a choice," Santorum said during a campaign stop in Texas. "You win by giving people the opportunity to see a different vision for our country, not someone who's just going to be a little different than the person in there."

Santorum added: "If they're going to be a little different, we might as well stay with what we have instead of taking a risk of what may be the Etch A Sketch candidate for the future."
Source: CBS News

I will repeat what I've said in other blogposts, on Twitter, Facebook, Google Plus and in conversations: This tinkering with the Republican Primary schedule so that the nomination process takes longer has done nothing but harm the party, the candidates and the chances that the eventual nominee will win the general election this November.

In a more perfect world, every member of the RNC who voted for this change to the Republican Primary Calendar should be brought up on the stage during the RNC Nominating Convention in Tampa, be tarred, feathered and rode out of the convetion on a rail so that they might be properly humiliated for their role in harming the Republican Party. I've embedded a visual aid below: