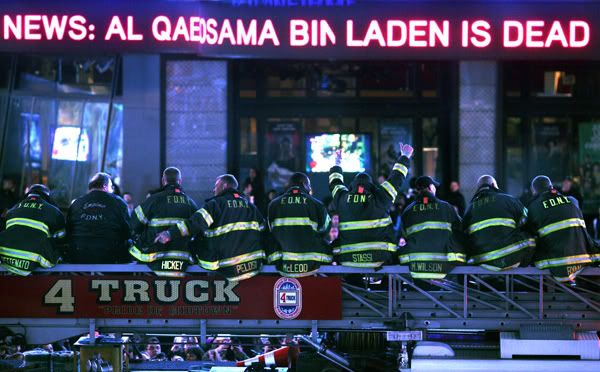 [WIKIPEDIA] Death of Osama bin Laden
[THE MUQATA] Military Ethics
From the Warriors, the MILBLOGS:
[TC OVERRIDE] Osamathanatopsis: A meditation on the death of the devil
[THIS AIN'T HELL] BIN LADEN DEAD!!!
[Black Five] OSAMA BIN LADIN IS DEAD!
[ARGGHHH!] Really? Kewl! The witch is dead? *And* Qaddaffi's son?
[MUDVILLE GAZETTE] bin Laden Dead
[NEPTUNUS LEX] Closure
[Danger Room] Latest on the Osama Raid: Tricked-Out Choppers, Live Tweets, Possible Pakistani Casualties
[THE LONG WAR JOURNAL] Al Qaeda emir Osama bin Laden confirmed killed by US forces in Pakistan
[OUTSIDE THE WIRE] The Helmund View
[THREATS WATCH] RapidRecon: Usama bin Laden Killed by U.S. in Pakistan
[MILITARY.COM]
US SEALs Kill Bin Laden in Pakistan
Mainstream Media:
[BBC] A look at Osama Bin Laden's compound
[THE UK TELEGRAPH] Osama Bin Laden killed: al-Qaeda timeline
[NEW YORK TIMES] Bin Laden Is Dead, Obama Says
[THE TIMES OF INDIA] Hiding bin Laden: Finger of suspicion at ISI
[WALL STREET JOURNAL] U.S. Forces Kill Osama bin Laden
[BOOM TOWN] Viral Video: Inside Osama Bin Laden Compound
Others:
[TECH CRUNCH] Bin Laden's Compound Gets A Bum Review On Google Maps
[JIHAD WATCH] Muslim Brotherhood: With Osama dead, U.S. troops should quit Iraq, Afghanistan
[MO'S WAY SUNRISE] America's Best Days
[SWAC GIRL] GWB and the war on terrorism: ' We will not fail'
[FRONT PAGE MAG] Why It Took Ten Years
[SENATOR RICHARD BURR] Senator Burr Statement on the Death of Osama Bin Laden
[SENATOR KAY HAGAN] Hagan Praises U.S. Special Forces for Killing Bin Laden
[SCRUTINY HOOLIGANS] The Obvious and Inevitable Open Thread
[ISRAEL POLITIK] Israel Congratulates USA on Elimination of Osama Bin Laden
[ELDER OF ZIYON] Hamas condemns US for killing Bin Laden (updated)
The Crazy Lefties and Lefty Libertarians:
[NOLAN CHART] Bin Laden is Dead but his Ghost still Haunts America
[Jayne Q RepublicanPUBLIC] Disappointing
[THIS AIN'T HELL] Democratic Underground on bin Laden's ventilation
[GREEN PARTY WATCH] OPEN THREAD: Now that bin Laden is dead, what do we do next?
[DAILY PAUL] Obama announces Osama bin Laden is dead (You really have to read the comments on this post. This shows the true face of the typical follower of Ron Paul)
[WHERE IS THE OUTRAGE] The Mission That Was Not Accomplished
[MILLS RIVER PROGRESSIVE] How convenient...
[INFO WARS] Red Alert: Government Had Osama bin Laden Frozen for Years
[MOTHER JONES] "OK, He's Dead. Can We Go Home?"
[MY DD] The World Rejoices, The American Radical Right Moans