**8.31pm** I've added audio of the meeting and replaced the live player with recorded video.


Link to Download MP3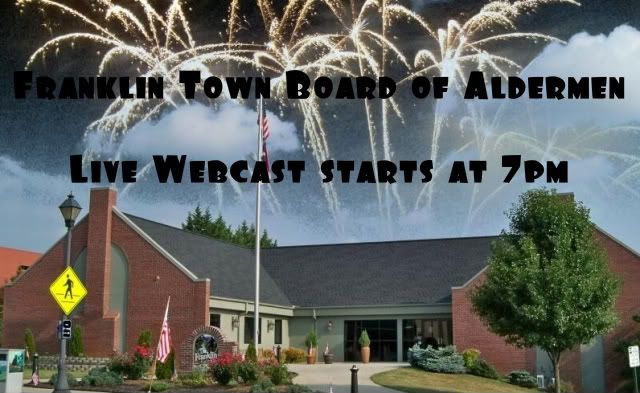 The Franklin Town Board of Aldermen will be meeting tonight at 7pm and I'll be there to cover the meeting. Tonight will see the swearing in of Ferrell Jamison as Aldermen in the seat of deceased Jerry Evans and two public hearings, one on the Minimum Housing Code and one on the proposed budget.
Here is the live video player from which you can watch the meeting. If you use Twitter, then you can follow my tweets from the Town Hall on my @wpig account. I will be using the hashtag #MaconGov. If you don't use Twitter, you may follow along on the widget I have embedded below.
The Agenda, the Budget Message and the Proposed Budget are below:
Monday June 6, 2011 - 7:00 p.m.
Call to order - Mayor Collins

The swearing in of Farrell Jamison to fill vacant Aldermen position.

A. Public hearing 7:05 p.m. on Minimum Housing Standards
B. Consider adoption of Minimum Housing Standards

Public Session.

A. Public hearing 7:30 p.m. on the proposed Budget for FY 2011-2012
B. Consider adoption of the proposed Budget for FY 2011-2012

Approval of the May 2, 2011 meeting minutes.

Budget Amendments- Janet Anderson

Recommendation by Town Attorney to change sign ordinance provision- John Henning Jr

Consideration of award for Dowdle Mountain Road Sewer Line Extension- Sam Greenwood 10. Street Closing Request- The Art's Council

Adjourn
Franklin Budget Message 2011 2012 (right click to download)
Franklin Proposed Budget 2011 2012 (right click to download)