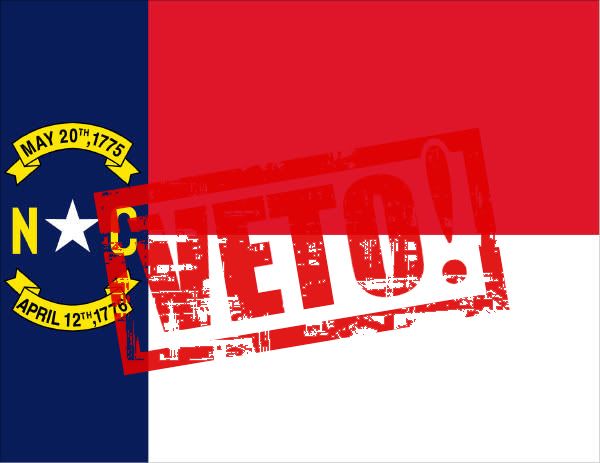 For the first time in state history, a Governor of North Carolina has vetoed a state budget passed by the legislature. [see details of budget and read the veto message from the Governor] Of course, it is also the first time in more than a hundred years that Republicans have control over both houses of the legislature.
The budget that the legislature passed is veto-proof in the NC Senate, and will be in the NC House, if at least four of the conservative Democrats maintain the position on the budget they expressed by their vote for it on Friday evening.
I saw the Senator from the 50th District of North Carolina on Saturday, and asked him about the passage of the state budget, including veto prospects. Here is the video of his response:
Here is more from WRAL:
Democratic Gov. Bev Perdue called a rare Sunday press conference to haul out the veto stamp before the cameras this afternoon, rejecting the first GOP-written budget in more than 100 years. It's the first budget veto in state history.
Perdue said the state budget "is more than a roadmap. It's a reflection of our values. It's a reflection of what we believe in."
"For the first time, NC has a legislature that's turning its back on our schools, our children, our longstanding investments in education."
Perdue said the cuts in the GOP's "ideologically driven" $19.7 billion dollar plan would harm classrooms, turn kids away from preschools, and close college programs, causing "generational damage" to the state's schools.
And she stressed that cuts in other areas would be damaging, too, from emergency response to law enforcement to the courts - "not just education, but our communities, our environment, our public safety system, and our ability to care for those that need us the most."
Source: WRAL
Hat Tip: @Fobes
Here is a statement from the leader of the NC Senate, Phil Berger:
"The same governor who claims to champion job creation and public education has vetoed a bipartisan budget that does more for both causes than her own proposal. The only explanation for this veto and her statewide media campaign is that the governor believes it is more important to energize her liberal base than to govern responsibly. By placing politics ahead of the public interest, she engages in obstruction of the worst kind, and we will act quickly to move North Carolina forward."
Source: NC State Senate
I'll be following this story tomorrow in the NC General Assembly, and will record the audio of the proceedings as the legislature tries to override the veto.