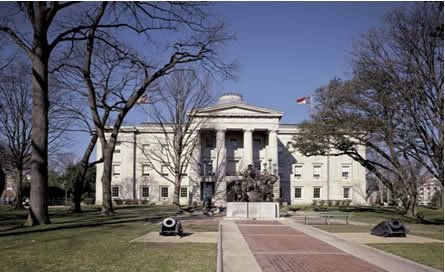 Today is the day after Crossover Day and only the
NC Senate
will be in session today. The
NC House will not be in session, and there have been no committee meetings scheduled for today. Several committees of the
North Carolina General Assembly are scheduled to convene next week. I have included links to bill histories, downloadable PDFs of the current versions of bills and links so that you can listen to the audio feed of these meetings live...provided they are taking place in a room that is wired for audio streaming to the Internet. To assist you in keeping up with history the Appropriations Act of 2011 (HB 200), click here. The Governor has not yet signed the bill, despite it being on her desk for almost a week. I'll keep you updated on the progress of that little tiff in the days ahead.
If you cannot listen to this meeting live, check back later to see if I have. If I have, I'll post the audio (and a download link) for the meeting in the calendar. You can also follow what is happening in the NC General Assembly by keeping an eye on the hashtag #ncga on Twitter.
If I haven't been able to listen, please check with Voter Radio. You should already besubscribing to their podcasts anyway. I do.
ʘ‿ʘ
Link for audio webcasts by room. The old linking system no longer works.
11:00 AM

Session Convenes

(Senate)

There are no bills on the calendar

Senate