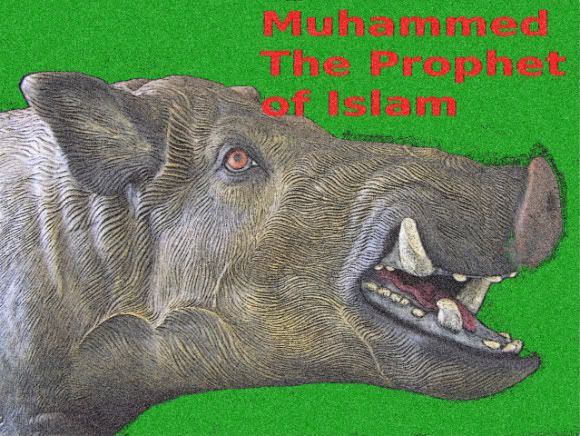 For the first time, ever, anywhere...I give you the true face of Mohammed!!!
This is my contribution to the "I am Spartacus!" effort in support of the creators of South Park, who depicted Mohammed dressed in a bear costume.
And, case the jihadis can't read English, I present this post translated into other languages they might understand:
**7.42am**

I also posted the cartoon on TwitPic.
لأول مرة ، في أي وقت وفي أي مكان... وانا اعطيكم الوجه الحقيقي لمحمد!

هذه هي مساهمتي للأنا "سبارتاكوس"!
جهدا في دعم المبدعين من جنوب بارك ، الذي يصور محمد يرتدي زي دب.


وقضية الجهاديين لا يمكن قراءة اللغة الإنجليزية ، أقدم هذا المنصب ترجمت إلى لغات أخرى أنها قد فهم ما يلي :
Voor de eerste keer, ooit, ergens ... ik geef je het ware gezicht van Mohammed!

Dit is mijn bijdrage aan de "Ik ben Spartacus!"
inspanningen ter ondersteuning van de makers van South Park, die Mohammed afgebeeld gekleed in een beer kostuum.


En, indien de jihadi's niet kunnen lezen Engels, presenteer ik dit bericht vertaald in andere talen die ze kunnen begrijpen:
पहली बार के लिए, कभी भी, कहीं भी ... मैं तुम्हें मोहम्मद का असली चेहरा दे!

यह मेरा "मैं हूँ Spartacus योगदान है!"
दक्षिण पार्क, जो एक भालू पोशाक में कपड़े पहने दर्शाया मोहम्मद के रचनाकारों के समर्थन में प्रयास.


और मामले, जेहादियों अंग्रेजी नहीं पढ़ सकते हैं, मैं यह अन्य भाषाओं वे समझ सकता है में अनुवाद पोस्ट वर्तमान:
Para sa unang pagkakataon, kailanman, kahit saan ... ibigay ko sa inyo ang tunay na mukha ng Mohammed!

Ito ang aking kontribusyon sa "Ako Spartacus!"
pagsisikap sa suporta ng creators ng South Park, na depicted Mohammed bihis sa isang kasuutan bear.


At, ang kaso jihadis ay hindi maaaring basahin ang Ingles, kasalukuyan ko ang post na ito isinalin sa ibang wika ay maaaring maunawaan nila:
Untuk pertama kalinya, pernah, di mana sahaja ... aku memberikan wajah sesungguhnya dari Muhammad!

Ini adalah sumbangan saya kepada "Aku Spartacus!"
usaha untuk menyokong pencipta South Park, yang digambarkan Muhammad mengenakan kostum beruang.


Dan, kes ini jihadi tidak boleh membaca Bahasa Inggeris, saya hadir posting ini diterjemahkan ke dalam bahasa lain, mereka boleh mengerti:
İlk defa, şimdiye kadar, her yerde ... Seni Muhammed'in gerçek yüzünü ver!

Bu "Ben Spartacus am benim katkısı var!"
South Park, bir ayı kostümü giymiş Muhammed tasvir yaratıcıları destek çaba.


jihadis İngilizce okuyamıyor Ve durumda, ben bu yazı onlar anlayabilirsin diğer dillere tercüme mevcut: