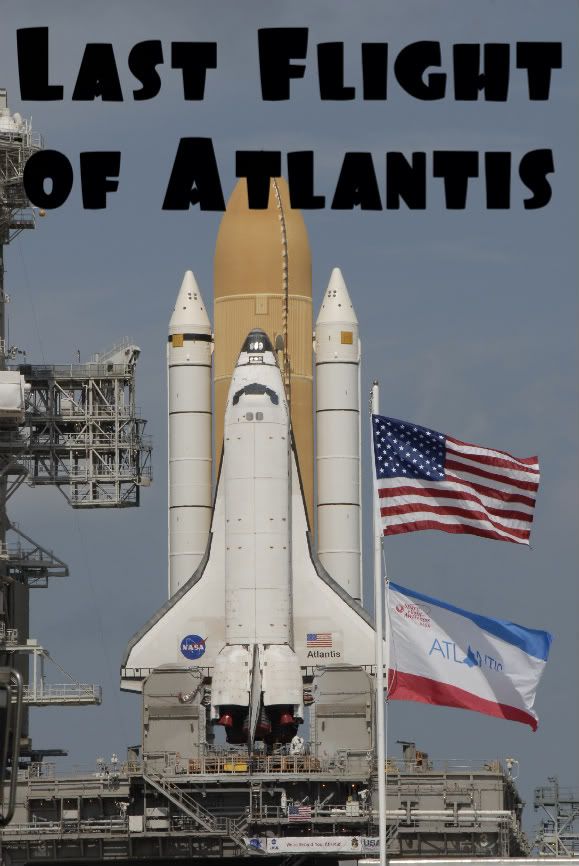 Today, if all goes well, will see the last launch of the space shuttle Atlantis on mission STS-132 of the shuttle space program. The flight is due to launch at 2.28 PM EDT.



Mini-Research Module 1 (MRM 1)

STS-132 is scheduled to carry the Russian

Mini-Research Module 1

to the International Space Station.

[8]

MRM 1 is named

Rassvet

, which means dawn in Russian. It was built by the Russian aerospace company

Energia

.

[9]

MRM 1 arrived at the Kennedy Space Center (KSC) aboard an

Antonov 124

cargo plane on 17 December 2009 at about 13:00

EST

.

[10]

After it was unloaded from the Antonov, the module was transported to an

Astrotech

processing bay in Cape Canaveral to undergo preparations for launch.

An airlock and radiation heat exchanger to be used for outfitting the Russian

Nauka

Module (to be launched in 2012), a spare elbow part of the

European Robotic Arm

(ERA) and a portable work platform for science hardware for performing experiments in the outer space will be externally mounted on MRM1 in its launch configuration

[11]

. Russian and US cargo to be delivered will also be accommodated inside the module. The volume for cargo and science hardware storage on MRM1 is 5 cubic meters

[12]

. MRM1 has Grapple fixtures to ensure the module unloading from

Atlantis

and mating to the Zarya module after the Space Shuttle undocking from the ISS.

[

edit

]

Integrated Cargo Carrier-Vertical Light Deployable (ICC-VLD)

Also on board

Atlantis

will be the Integrated Cargo Carrier-Vertical Light Deployable (ICC-VLD) pallet holding a Ku-band Space to Ground Antenna (SGANT), SGANT boom assembly, Enhanced Orbital replacement Unit (ORU) Temporary Platform (EOTP) for the Canadian Dextre robotic arm extension, Video and Power Grapple fixtures (PVGF) and six new battery ORUs. The six new batteries will replace older ones on the

P6 truss

of the ISS. The old batteries will be placed back on the ICC-VLD pallet for the return trip back to Earth. The EOTP was built by

MacDonald, Dettwiler and Associates

Ltd. (MDA) of Brampton, Ontario, Canada for NASA.

[13]

The ICC pallet is constructed out of aluminum. It is approximately 8 feet long, 13 feet wide and 10 inches thick. The empty weight of the pallet is 2,645 pounds. The total weight of ICC–VLD and the ORUs is approximately 8,330 pounds. ICC-VLD return mass is 2933 kg.

The ICC-VLD will be berthed in the center of shuttle's payload bay for both launch and reentry

[14]

.
Source: Wikipedia
Courtesy of the fine folks at SpaceVidCast, you can watch the Atlantis launch live for the last time from your computer via live online streaming: