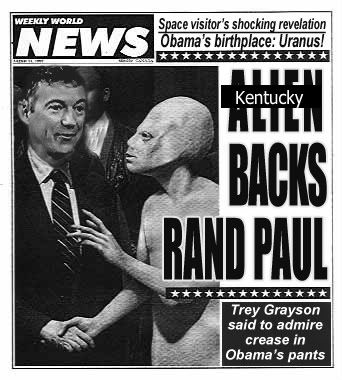 Here are the results of the primaries (119 of 120 counties reporting) in Kentucky where 11 candidates (6 Republicans and 5 Democrats) in two parties are competing to see who will face each other to replace the retiring Jim Bunting in the fall. The top Republican, Rand Paul, will be facing the top Democrat, Jack Conway in November.
The turnout is Kentucky was 32.65%, with 40.34% casting ballots for Republicans and 59.66% casting ballots for Democrats in the US Senate race.
Kentucky GOP Primary for US SENATE

Candidate

Percent of Vote

Number of Votes

Rand Paul

58.77

206812

Trey Grayson

35.44

124710

Bill Johnson

2.23

7855

John Stephenson

1.96

6885

Gurley Martin

0.81

2852

Jon Scribner

0.80

2813

Total GOP Ballots Cast

351927
Kentucky DEM Primary for US SENATE

Candidate

Percent of Vote

Number of Votes

Jack Conway

43.91

228531

Daniel Mongiardo

43.23

224989

Darlene Price

5.48

28543

James Buckmaster

3.95

20539

Maurice Sweeney

3.42

17810

Total DEM Ballots Cast

520412
**7.23am update**
This just in from
Five Thirty Eight
:
Because of Paul's impressive 24-point margin of victory, almost any explanation you might proffer probably contains some element of truth. But for all his libertarian and tea-party dressing, Paul

in fact ran on a fairly conventional, conservative platform

. He's pro-life, anti-gay marriage, anti-immigration ... there are only the faintest hints of libertarianism here. This was probably a good thing for him because Kentucky, which has traditionally been socially conservative but economically moderate, is pretty much kitty-corner to the libertarian side of the political quadrant. This was actually very clever, in a lot of ways -- Paul's last name (and decision to affiliate himself with the tea party) gained him national attention and fundraising and earned media, but to people in Kentucky, he ought to have been a very comfortable choice who was somewhat more fresh-faced than his rival. The branded product beat the generic one.

Paul might have some trouble in general election, especially after somewhat underwhelming turnout in the primary (Democratic turnout was actually 60 percent higher, although Democrats enjoy a substantial registration advantage in Kentucky). But that's more because of his inexperience and

standoffishness

and less because of his platform.
**7.55am**

Polling Data on the Paul vs Conway show it could be a horse race in Kentucky...
Daily Kos (D) has Paul by 3% [42-39]
PPP (D) has Paul by 1% [41-40]
Rasmussen has Paul by 9% [47-38]
RCP Poll Avg has Paul by 4.3% [43.3-39]
Source:
Real Clear Politics
**8.15am**
I found this on a conservative blog in Kentucky that shows the tactics being used by libertarians like Rand Paul to infiltrate the Republican Party. Rand made it through based on his daddy's donor list and name recognition. Thank God that other libertarians are finding a harder time of it in other races.
"I know that third party candidates can't win in KY. Although I'm a libertarian at heart, I've decided to run as a Republican. Once I win I'll be able to promote my father's principles and work towards reforming the Republican party." `Rand Paul
Source: Conservative KY Gal
More article from this blog as I tracked a similar effort in western North Carolina: