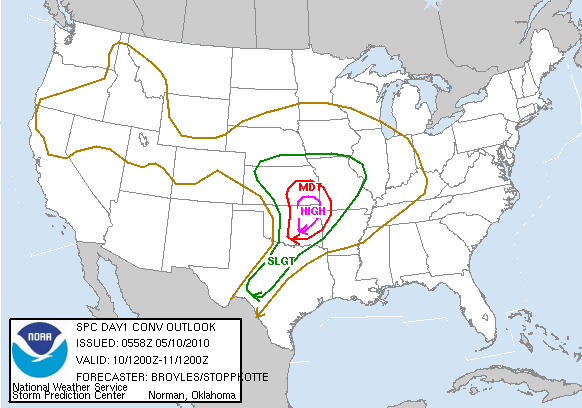 Looks like today is shaping up to be an epic day for storm chasers in the plains. Before I get to that, here is a video of some of the type of weather that can be expected today in the plains states...
May 09, 2010 —
Dryline Media
storm chaser Charles Edwards found the business side of this hail core near Godrey, IL on 05/03/10 The large hail gave the chase vehicle a relentless beating and thoroughly shredded the nearby trees!
Luckily, where I live in western North Carolina, we only see hail stones larger than ping pong balls maybe once a decade or so, if that. We mostly get the pea-sized variety maybe once or twice a year.
You can follow the action today in real-time from storm chasers who are streaming live video to the Internet via ChaserTV, Severe Studios. Mike Whelhelm is headed that way, but I do not know if he will be streaming his chase live. I'll update this post, and add new posts if I find anything interesting. Twitter is a good resource, but no one has been able to establish standard hash tags that make following these events easier. I have a Twitter list of some storm chasers. These chasers will either be in the area of severe weather, or tweeting and linking to others who are.
Back to the probable storms that will be firing up today in the Oklahoma, Arkansas, Nebraska, Missouri and the surrounding states...here is the forecast discussion issued by the NOAA Storm Prediction Center:
 SPC AC 100558
   
   DAY 1 CONVECTIVE OUTLOOK  
   NWS STORM PREDICTION CENTER NORMAN OK
   1258 AM CDT MON MAY 10 2010
   
   VALID 101200Z - 111200Z
   
   ...THERE IS A HIGH RISK OF SVR TSTMS ACROSS PARTS OF SE KS AND ERN
   OK...
   
   ...THERE IS A MDT RISK OF SVR TSTMS ACROSS PARTS OF CNTRL AND ERN
   KS...CNTRL AND ERN OK...WRN MO AND NW AR...
   
   ...THERE IS A SLGT RISK OF SVR TSTMS ACROSS PARTS OF THE SRN AND
   CNTRL PLAINS...MID-MS VALLEY AND OZARKS...
   
   ...REGIONAL TORNADO OUTBREAK AND LONG-TRACK STRONG TO VIOLENT
   TORNADOES BECOMING LIKELY IN ERN OK AND SE KS FROM LATE THIS
   AFTERNOON INTO THE EVENING...
   
   ...SRN AND CNTRL PLAINS...
   RAPID MOISTURE TRANSPORT WILL TAKE PLACE TODAY ACROSS THE SRN PLAINS
   AS AN IMPRESSIVE NEGATIVELY-TILTED UPPER-LEVEL TROUGH MOVES QUICKLY
   INTO THE REGION FROM THE WEST. SCATTERED THUNDERSTORMS SHOULD BE
   ONGOING ON THE NOSE OF A 50 TO 60 KT LOW-LEVEL JET ACROSS ERN KS
   WITH THIS CONVECTION BEING SHUNTED NNEWD AWAY FROM THE HIGH RISK
   AREA AROUND MIDDAY. AT THIS TIME...A WELL-DEFINED MOIST AXIS AND
   DRYLINE WILL RAPIDLY ORGANIZE MOVING ENEWD ACROSS WRN OK THIS
   AFTERNOON. SFC DEWPOINTS ARE FORECAST TO RAPIDLY INCREASE INTO THE
   UPPER 60S TO AROUND 70 F ACROSS ECNTRL OK WHERE FORECAST SFC TEMPS
   SHOULD REACH THE MID TO UPPER 80S F. THIS RESULTS IN A TONGUE OF
   STRONG INSTABILITY FROM NRN TX EXTENDING NWD INTO NRN OK WITH MLCAPE
   VALUES IN THE 3000 TO 4000 J/KG RANGE. AS THE UPPER-LEVEL TROUGH
   APPROACHES THE INSTABILITY AXIS...A 75-90 KT MID-LEVEL JET WILL MOVE
   EWD ACROSS NRN OK. THIS FEATURE WILL CREATE VERY STRONG DEEP LAYER
   SHEAR PROFILES WITH 0-6 KM SHEAR VALUES ACROSS THE HIGH RISK AREA
   REACHING THE 70 TO 80 KT RANGE. THIS COMBINED WITH THE STRONG
   INSTABILITY SHOULD RESULT IN RAPID SUPERCELL INITIATION AS STORMS GO
   UP ALONG THE DRYLINE ON THE WRN EDGE OF THE LOW-LEVEL JET LATE THIS
   AFTERNOON. 
   
   THE LOW-LEVEL JET WILL CREATE VERY STRONG LOW-LEVEL SHEAR PROFILES
   WITH FORECAST SOUNDINGS ACROSS THE HIGH RISK AREA AT 00Z SHOWING 0-3
   KM HELICITIES IN THE 450 TO 550 M2/S2 RANGE SUGGESTING THE SHEAR
   ENVIRONMENT WILL BE VERY FAVORABLE FOR TORNADOES. THE CURRENT
   THINKING IS THAT SEVERAL SUPERCELLS WILL INITIATE ALONG THE I-35
   CORRIDOR FROM WICHITA SWD TO OKLAHOMA CITY WITH THE CELLS BECOMING
   TORNADIC TRACKING ENEWD ALONG THE I-44 CORRIDOR INTO THE TULSA AREA
   AND INTO FAR SE KS BY EARLY EVENING. STORM MOTIONS SHOULD BE TO THE
   EAST NORTHEAST AT 50 KT SUGGESTING THE TORNADOES COULD BE LONG-TRACK
   WITH STRONG TO VIOLENT TORNADOES CERTAINLY POSSIBLE ACROSS THE HIGH
   RISK AREA. FORECAST SOUNDINGS SHOW VERY STEEP MID-LEVEL LAPSE RATES
   WHICH COMBINED WITH THE STRONG VERTICAL SHEAR SHOULD SUPPORT VERY
   LARGE HAIL WITH SUPERCELLS THAT DEVELOP ALONG THE DRYLINE. THIS
   THREAT SHOULD EXIST SSWWD INTO NRN AND WCNTRL TX WHERE SUPERCELLS
   MAY ALSO PRODUCE A FEW TORNADOES.
   
   FURTHER NORTH IN THE CNTRL PLAINS...THUNDERSTORMS SHOULD ALSO
   INITIATE NORTH OF SFC LOW IN CNTRL AND NRN KS LATE THIS AFTERNOON.
   FORECAST SOUNDINGS ACROSS NRN KS SHOW STRONG VERTICAL SHEAR PROFILES
   SUGGESTING SUPERCELL DEVELOPMENT WILL BE POSSIBLE. SUPERCELLS WILL
   BECOME INCREASINGLY LIKELY AS MODERATE INSTABILITY DEVELOPS ACROSS
   ERN KS EARLY THIS EVENING. TORNADOES AND VERY LARGE HAIL WILL BE
   POSSIBLE WITH SUPERCELLS. HOWEVER...A POTENTIAL FOR WIND DAMAGE WILL
   ALSO BE POSSIBLE ESPECIALLY IF THE STORMS CAN ORGANIZE INTO A BOWING
   LINE-SEGMENT MOVING INTO WRN MO DURING THE LATE EVENING.
   
   ..BROYLES/STOPPKOTTE.. 05/10/2010