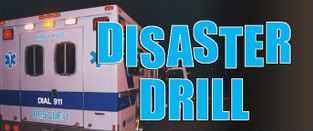 PRESS RELEASE





BOONE—A full-scale emergency exercise will be conducted May 19 at Appalachian State University. The exercise will run from approximately 7:30 a.m. until 2 p.m. on the west side of campus in and around the stadium parking lot. One or more buildings on the main campus also might be included in the exercise.
Traffic along Stadium Drive may be limited at times during the exercise.
More than 100 participants, including local and state law enforcement personnel from six agencies, will participate. Other participants will include Watauga Emergency Medical Services and Boone Fire Department.
The university's emergency Web site (
www.emergency.appstate.edu
) will include information about the exercise and a link to a mock up of the site that will include information from the exercise to aid in future training scenarios.
The drill is designed to test emergency response and communication capabilities during an emergency. Officials with EnviroSafe are directing the drill in consultation with officials from Appalachian and the University of North Carolina General Administration.
Area residents and motorists should not be alarmed by increased traffic from law enforcement and emergency response vehicles along Rivers Street and Stadium Drive during the day of the drill.
Law enforcement officers participating in the drill will not carry armed weapons. Participants and observers will be identified by specially colored vests and identification badges. Simulated explosions might be heard during the exercise.
This is the second full-scale emergency exercise conducted at Appalachian. The first, in 2009, simulated an active shooter/hostage situation.
The May 19 drill follows a directive from UNC system President Erskine Bowles that all UNC institutions conduct an emergency exercise this school year.
I participated in a similar drill last year on the campus of WCU, playing the part of a reporter. Here are some videos I made in March 2009 during the exercise:
Part One
Part Two
You can read my thoughts about the drill at WCU at
Video and Thoughts About the WCU Disaster Drill.
The WCU Reporter has a good article that was published before the event.
Here is WCU's Emergency Page.