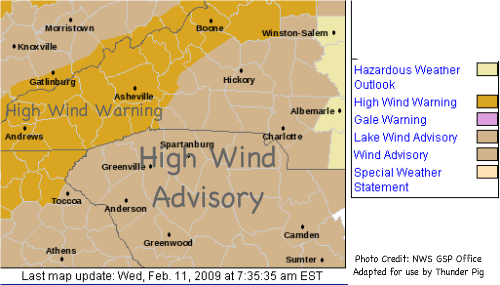 Photo Credit: NWS
Looks like today will be a windy one for the mountains of western North Carolina, and a little stormy later this  afternoon. Keep your eyes out for hazardous conditions. 
Remember to check with the National Weather Service for official weather information.


From the Greenville-Spartanburg Office of the National Weather Service:

HAZARDOUS WEATHER OUTLOOK
NATIONAL WEATHER SERVICE GREENVILLE-SPARTANBURG SC
613 AM EST WED FEB 11 2009
GAZ010-017-NCZ033-048>053-058-059-062>065-501-503-505-507-509-121115-
RABUN-HABERSHAM-AVERY-MADISON-YANCEY-MITCHELL-SWAIN-HAYWOOD-BUNCOMBE-GRAHAM-NORTHERN JACKSON-MACON-SOUTHERN JACKSON-TRANSYLVANIA-HENDERSON-CALDWELL MOUNTAINS-BURKE MOUNTAINS-MCDOWELL MOUNTAINS-RUTHERFORD MOUNTAINS-POLK MOUNTAINS-
613 AM EST WED FEB 11 2009
...HIGH WIND WARNING IN EFFECT UNTIL 6 AM EST THURSDAY...
THIS HAZARDOUS WEATHER OUTLOOK IS FOR NORTHEAST GEORGIA AND WESTERN NORTH CAROLINA.
.DAY ONE...TODAY AND TONIGHT.
PLEASE LISTEN TO NOAA WEATHER RADIO OR GO TO WEATHER.GOV ON THE INTERNET FOR MORE INFORMATION ABOUT THE FOLLOWING HAZARDS.
HIGH WIND WARNING
.
INCREASINGLY GUSTY SOUTHERLY WINDS ARE EXPECTED TODAY...
WHICH MAY BE STRONG ENOUGH TO TOPPLE TREES AND DOWN POWERLINES THIS AFTERNOON
.
THE THREAT OF DAMAGING WIND GUSTS COULD LINGER INTO THE EVENING HOURS ACCOMPANIED BY SHOWERS AND THUNDERSTORMS. STRONG WIND GUSTS MAY BE SEEN INTO THE OVERNIGHT HOURS AS WINDS SHIFT TO THE NORTHWEST.