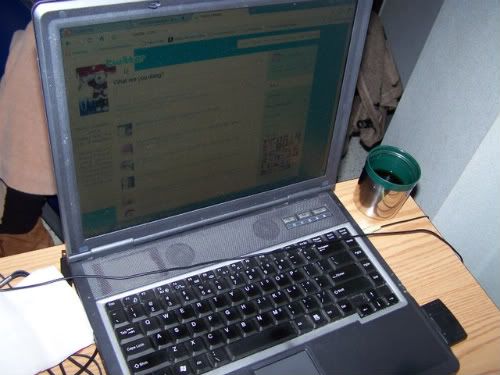 The Setup
It occurred to me when my rotation came up again to sit with my grandmother at the local hospital (she fell and broke her pelvis last week), that I might be able to take my laptop along and do some news-checking, catching up on my email, and maybe even some light blogging. (All this, of course, comes secondary to the needs of the patient).
Since I draw the night shift, that also gives me an opportunity. If my grandmother has a good night...perhaps I could get some stuff done.
When getting ready for my shift, I did what I always do...I over pack and over prepare. Fortunately, I told myself I would limit my baggage to what would fit in my laptop bag. I ended up carrying my Thermos and book outside the bag.
Here is the list of what I took, and notation on how that worked out for me:
Laptop w/ AC power supply (this worked well)
Internet Cable (didn't need it, see next item)
WiFi Card (Yes! Even in Sylva, they have Wireless Internet!)
Spare Hard Drive (Not so good. Room was cramped, plugs were at a premium)
Headphones (We don't want to disturb the sleeping patient, do we?)
A Thermos of Coffee or Tea (caffeine is your friend, and bringing it from home is cheaper than the vending machine...which might not even work)
A small digital camera to catch some photos for your photo stock when blogging on health issues in the future. (I have a 320 GB portable hard drive that is nearly full of photos, and a good deal of them are stock photos and B-Roll video files).

A jacket or two. It can get cold in the room, and one of them can double as a pillow if you decide to catch a power nap.
Cell Phone with a web interface in case you can't get on the Internet with the above setup, and you are really, really desperate.
Extra Change and Dollar Bills for sodas or snacks (Hey, you're already toting around a bunch of stuff...don't want to tote food around, too. Plus, it gives you a handy excuse for walking down the hallway to stretch your legs).
Book. (I spent about three hours just reading. Sometimes the old ways and things are the best). Here is

the book I took

with me.

That's my list, anyway. Next time, I'm leaving the portable hard drive (with ancillary data) at home or in the truck. You might want to bring something that could double as a laptop desk if your laptop has issues with over heating (as mine does). I brought my chiller pad, but did not use it since Web Sense blocked all the intensive applications and I wasn't editing video.
Some notes on the
hospital in Sylva
, they do have WiFi, but it is heavily filtered through a service called Web Sense [
web
] [
wikipedia
] that blocks access to email, message boards, forums (some can be read, but not posted to) and video. Oddly enough, it blocked all the photos on

my photo blog

.
It did

weird things with twitter

, sometimes blocking it, sometimes not, and at other times just hiding all the links.
Google Reader

worked perfectly fine, including the share, share with note and share by email functions.
Blogger

also worked. I could blog, but could not comment or add photos directly from my computer, but could add from elsewhere, and it always gave me an error when I published, but would still publish the post. I neglected to test my

WordPress

blogs.
I could not stream audio or video, but could download files.
So, I have (as

Bill Cunningham

says) given you a "full report".
What have your experiences been with blogging or surfing the Internet from hospitals?